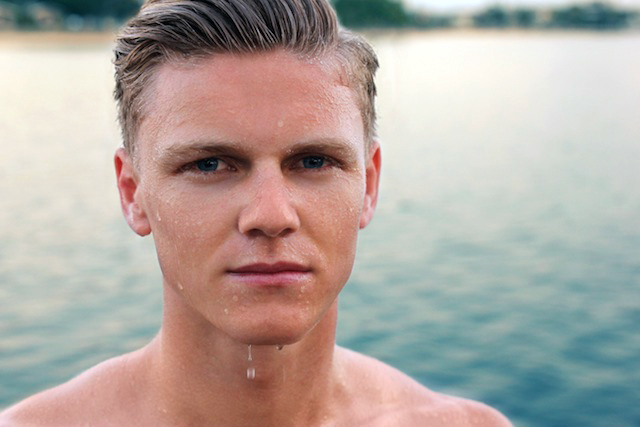 Based on figures provided by market research company Euromonitor International, the value of men's skincare sector has been rising steadily since 2010. Beauty products such as cleansers, moisturizers and serums designed especially for men reached S$15 million in the United Arab Emirates (UAE) in retail sales in 2015 – a sharp increase of 30% compared to 2010. Furthermore, this increase is expected to continue.
In 2015, CNN reported that South Korean men are the world's top per-capita consumers of skincare products (not surprisingly). Korean men are not only purchasing aftershave and sunblock lotions, they are also sweeping up the shelves for anti-aging serums, masks and moisturizers. Riding on this strong demand in recent years, skincare companies are channeling substantial investments to design skincare range for men.
Over the years, men are starting to adopt the same grooming patterns as their female counterparts. Many are reluctant to use products that are packaged for women. They are even willing to pay a premium for the same product – but packaged differently, supposedly tailored to suit their skin type and their active lifestyle.
Is there really a difference between men's and women's skincare lines? Is there a need to have a separate range of men's skincare products? Is it a necessity or just a marketing ploy to get macho men to purchase skincare products they do not need?
Men Deserve To Be Pampered Too
In an age where looks play a significant role on how others treat you, it is no wonder that men are starting to take their personal grooming more seriously. "Mampering" is a new word coined in recent times to describe how men are adopting the same skincare routines as women.
"Younger guys are willing to try lots of stuff because they are growing up in a world where it's OK to care about your grooming." said Matthew McCarthy, senior marketing director of antiperspirants and deodorants at Unilever. He added that men have been engaged in grooming products for hundreds of years, but it used to be around fragrance and shaving. It has progressively changed to include more products such as anti-aging creams, BB creams, and moisturizers. According to McCarthy, the key success is for Unilever attempts to create products for men by designing both brands and products with guys in mind. It is not simply rebottling female products into a dark-colored packages.
What's the Difference Between Women's and Men's Products?
If you walk down the beauty products aisle in the supermarket, you see products with packaging and product names that are targeted specifically for each sex. For example, household brands such as Head & Shoulders Shampoo and Clear Shampoo have manufactured gender-specific products designed to appeal to each sex. Men's products tend to be bottled in larger, darker-colored containers while women's packages tend to be brighter and slightly smaller.
Another observation is that men's product designs tend to lean towards scientific imagery and scientific keywords such as 'antioxidant-rich', 'mineral-rich', 'ion', 'dermatologist-recommended' etc. Products targeting female consumers have themes surrounding keywords such as 'floral', 'revitalizing', 'botanical', 'silky' etc. This is evident in the advertising materials for Head & Shoulders. In the advertisement to promote the shampoo for females, the tagline was "Shine – 365 days a year", whereas the advertisement targeting the males, the tagline was "It's not just the flakes we wash out. It's what we wash in."
Ingredients
If you look closely and compare the ingredient lists of beauty products for men and women, you will see they are not very different. Both contain similar ingredients and offer similar benefits. The only difference is the fragrance and the cost.
The Environmental Working Group, a nonprofit environmental research organization based in Washington, D.C. commented that aside from a difference of sheer volume, there is often very little that separates what men and women are using in their bathrooms.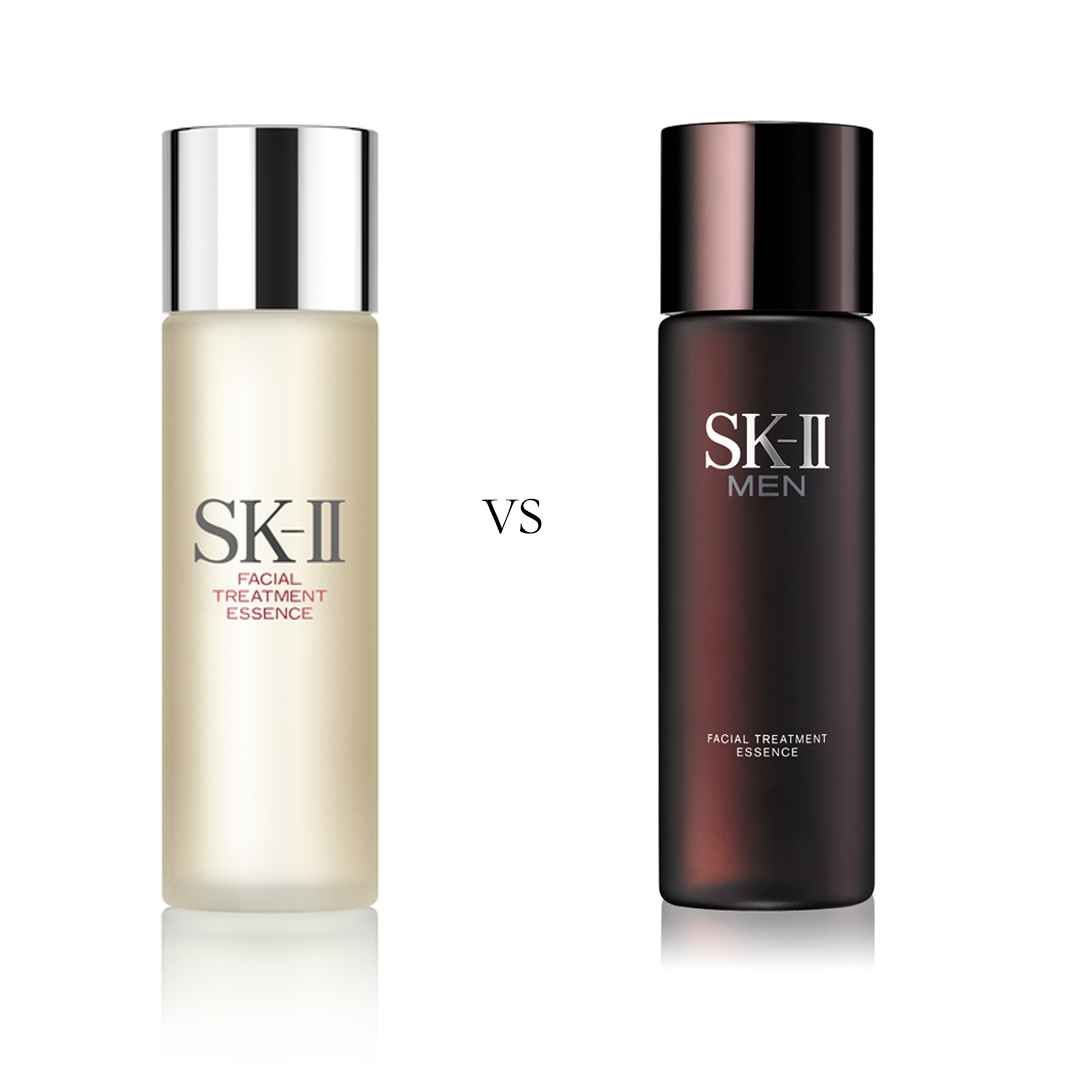 For example, SK II Facial Treatment Essence contains the following ingredients:
Galactomyces Ferment Filtrate**, Butylene Glycol, Pentylene Glycol, Aqua (Water), Sodium Benzoate, Methylparaben, Sorbic Acid
Compare this with the men's version: SK II Facial Treatment Essence for Men:
Galactomyces Ferment Filtrate, Butylene Glycol, Pentylene Glycol, Water, Glycereth 25 Pca Isostearate, Sodium Benzoate, Methylparaben, Menthoxypropanediol, Sorbic Acid.
The extra ingredient that can be found in the men's concoction is the only  Glycereth 25 Pca Isostearate – an ester of a mixture of isostearic acid and PCA with apolyethylene glycol ether of glycerin. It is essentially only a skin-conditioning agent.
To further illustrate the largely similar ingredients, let's compare L'oreal Men Expert Hydra Power Water Serum and Hydrafresh Genius Multi-Active Essence Cream.
The seven major ingredients in the former are:
AQUA / WATER, Dimethicone, Glycerin, Dipropylene Glycol, Mentha Piperita Extract, Dimethicone Sodium Chloride, and Sodium Choloride.
No surprise, these ingredients are also present as major ingredients in Hydrafresh Genius Multi-Active Essence Cream. The only missing ingredients are Dipropylene Glycol and Mentha Piperita Extract. Dipropylene Glycol is merely used as solvents in cosmetics products and Mentha Piperita Extract is just peppermint oil. They are essentially the same!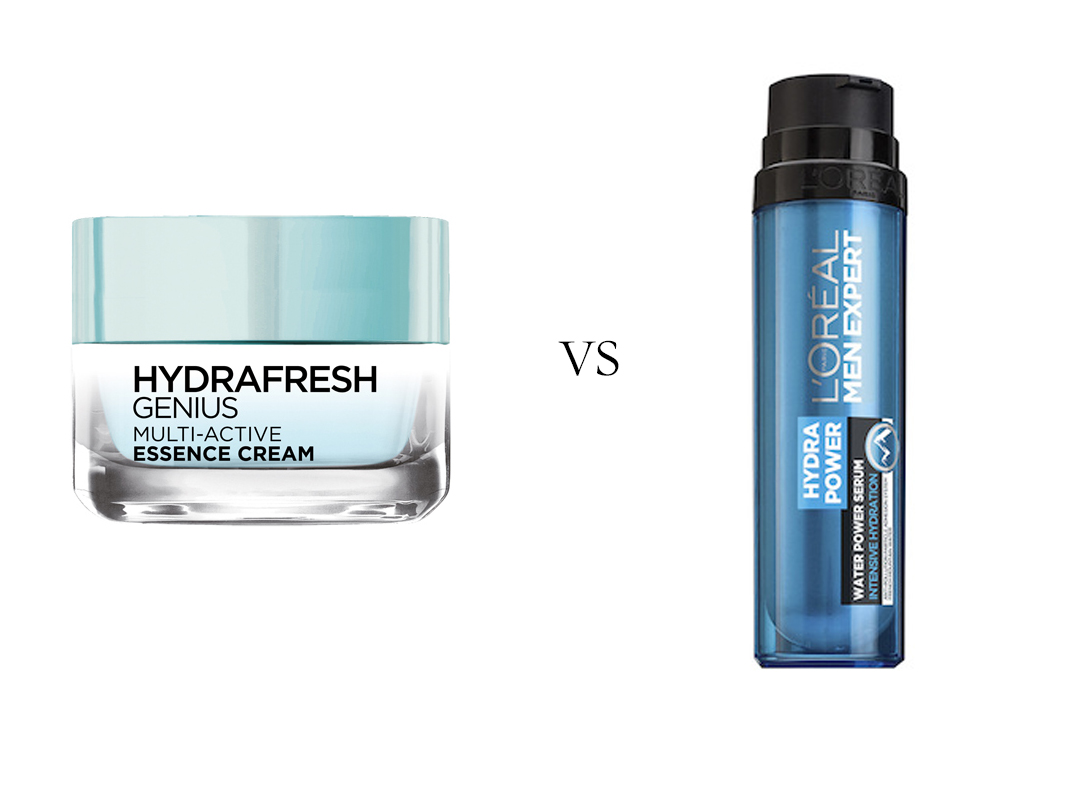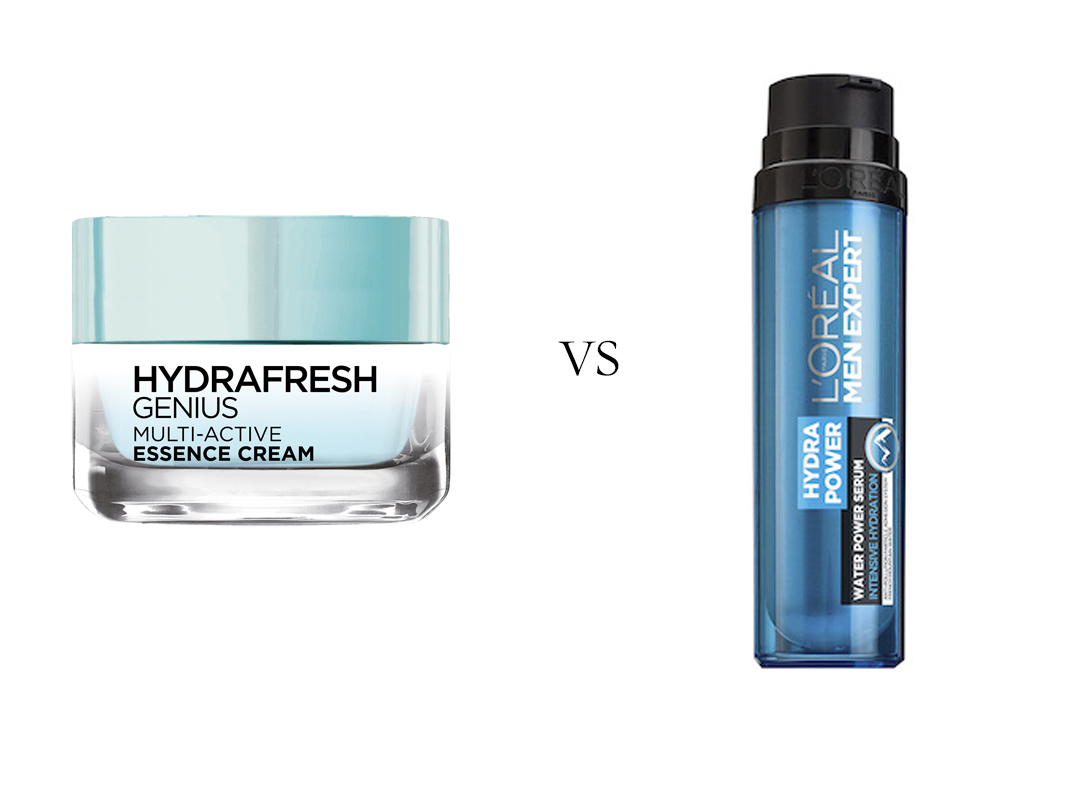 Cost
How much you pay for your skincare products depend on the brand, not gender-specific products. In fact, most of the men's and women's skincare products had the similar price point. For example, SK II Facial Treatment Essence and SK II Facial Treatment Essence for Men cost S$99 for 75ml.
Scent
If you are partial to certain fragrances in your beauty products, you may find yourself falling prey to the cosmetic companies' marketing ploy.
Women's skincare products often smell flowery, and the heavy perfume lingers for hours. On the other hand, men's beauty products have woodsy base of amber and musk. That is not to say that the only difference in gender-specific products is the fragrance. It is noted in some studies that many female-oriented products may have added botanical ingredients like green tea, white tea, coffeeberry, and chamomile – simply because women tend to pay more attention to holistic skincare ingredients than most men do. Dr. Bobby Buka, a New York based dermatologist said "They're certainly scented differently, but in terms of the ingredients for male skin … versus female skin, it's really identical". He added that male and female skin problems and solutions are indistinguishable.
I also note that there is an increased number of products with a unisex fragrance, or no fragrance at all.
The Psychology Behind Men's Beauty Products
Traditionally, men are uncomfortable with the idea of dolling themselves up, as buying cosmetic products have always been women's prerogative. Selling beauty products to men requires an entirely different language as compared to selling to women. Cosmetic companies are evoking the notion of health and science-backed studies as a selling point to men.
There are several reasons why men are spending more on skincare products. Men are no longer the sole breadwinners of the family and gender roles are no longer distinct. There is a convergence of masculine and feminine ideals.
Social media has done many wonderful things for us. It gives us avenue to read articles with different viewpoints, reporting happenings and events that newspapers and magazines do not cover. But it is precisely because of social media that made people, especially the millennials more conscious of their appearance more than ever. It has put huge pressure on young people to look their best and be camera-ready at all times. Men and women need to pay attention to their clothes, hair and skin every day.
So are Men's Skincare Products Just a Marketing Gimmick then?
Grooming for men has gone beyond shaving due to changing perceptions of masculinity beauty. The frequency of purchase in men's skincare market is steadily increasing with moisturizers, anti-aging creams, and skin—whitening serums. Cosmetic companies see a huge potential in this market with the rising demand of men's skincare lines. They have started to invest time and energy to introduce a line of men's skincare range to capture the growing market.
Cosmetic companies appeal to men by putting almost identical contents of the corresponding female product, mixing with some woodsy and musky fragrance and bottling them in a more "macho" container. Some companies also price their products slightly lower than the corresponding female version to encourage the men to part with their money.
The products are also given more manly names such as Kiehl's Facial Fuel and Clear Shampoo's "Cool, Sport Menthol". The whole package, from the product name to the containers exudes vigour, strength, and ruggedness to ensure that buying skincare products are no longer seen as compromising their masculinity. Bear in mind though – You are likely using the same products as your wife or girlfriend.