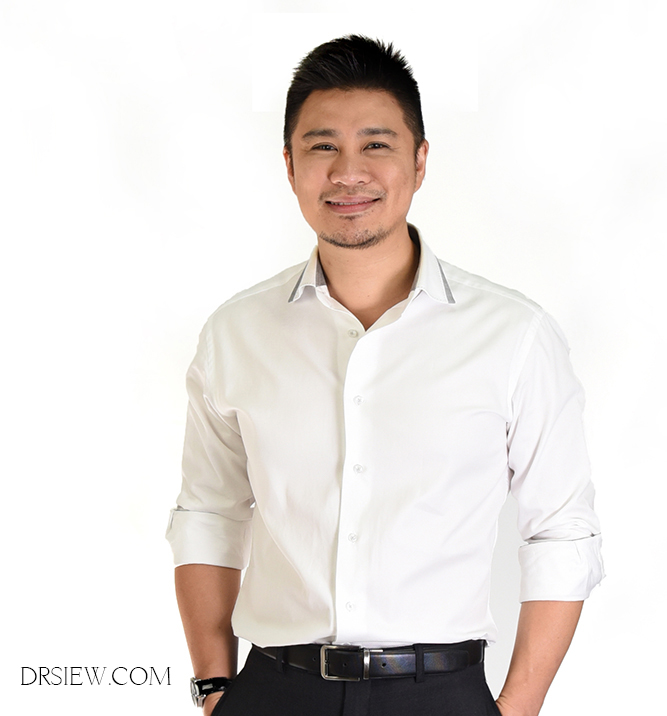 Dr. Siew Tuck Wah is a familiar face in Singapore – he has spent 15 years practicing anti-aging medicine, performing non-invasive treatments such as Lasers, Filler injections, Botulinum Toxin injections, and Thread Lifts. He is passionate about topical skincare, healthy living, and the use of injectable Fillers to sculpt, lift, and rejuvenate patients' skin with natural outcomes. In his clinical practice, Dr Siew brings his practice philosophies to life – emphasis on patient rapport, service excellence, safety, integrity, kindness and professionalism.
Besides seeing patients, Dr. Siew is very active professionally in teaching, clinical research and writing. He loves to teach and help aspiring aesthetic doctors hone their craft, so that they can practice as safely as possible. He has been regularly conducting workshops locally and in Asia over the past 7 years, and to impart safe practice techniques to fellow doctors. He has trained more than 500 doctors. 
Dr Siew is a Key Opinion Leader and/or certified trainer for the following medical devices and treatments: 
·      Merz Aesthetics Global Key Opinion Leader – for Belotero Fillers, Radiesse, Xeomin, Ultherapy
·      Galderma Asia Pacific Honorable Trainer – for Restylane fillers, Sculptra, Dysport 
·      Sinclair – Ellanse, Silhouette Soft Thread Lift
·      Profhilo 
·      Lutronic Lasers and Energy Based Devices
·      Dual Yellow Laser
·      Redustim 
·     Sylfirm X. 
Dr. Siew is regarded to be one of the regional and global leaders in the industry, by global aesthetic companies and peers alike. Because of this, he is invited to be on the advisory boards for several medical devices and treatments. He is also a highly sought- after speaker who is regularly invited to speak at medical conferences locally and internationally. Most recently, he is part of a global taskforce to help improve Ultherapy, a skin lifting treatment.  His passion lies not only in doing the best for every patient, but in improving the standard of anti-aging medicine as a whole. 
Despite his immensely busy schedule, Dr. Siew places strong emphasis on building rapport with his patients, and uses his social medial platforms & website to provide an easily accessible and reliable platform for the public to understand medical aesthetic procedures and learn the latest news on health and wellness. He believes in spending time to get to know every patient, and understand their uniques needs and goals. 
Dr. Siew's other great passion is in animal welfare and charity work. He is the co-founder and President of SOSD (formerly Save Our Street Dogs), one of the largest animal rescue charities in Singapore, which rescues, rehabilitates and rehomes homeless and abandoned dogs. He is a forceful animal welfare advocate, who believes that every life, no matter pedigree or stray, is worth saving and fighting for. He was involved in the formulation of national policies to improve the treatment of animals, and instrumental in the advocacy for the humane treatment for stray animals, so that they are sterilised and rehomed, rather than culled like before. Through SOSD's outreach arm, he and his team regularly conducts talks in schools in the hope of instilling values of kindness and respect to Singapore's youth. Through SOSD's pet therapy programs, he brings therapy dogs ­­­to bring joy and comfort to persons in need. 
Dr Siew also actively volunteers in religious work, helping to raise funds for his Buddhist centre and its affiliated orphanage in Sichuan, China. Dr Siew and SOSD were shortlisted for the President's Volunteerism & Philanthropy Awards  (PVPA) several times. In 2014, he was conferred the Junior Chamber International (JCI) award for Humanitarian and Voluntary Leadership for dedicating his life to volunteerism. Like JCI, he believes that "Service to Humanity is the Best Work of Life".