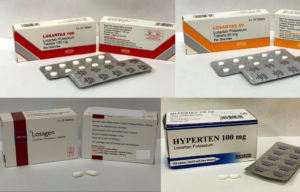 The Health Sciences Authority (HSA) of Singapore is recalling three brands of blood pressure medicines. They were found to contain higher than accepted levels of a nitrosamine impurity, N-nitroso-N-methyl-4-aminobutyric acid (NMBA). All 3 medicines contain losartan, an angiotensin II receptor blocker (ARB) commonly uused to treat hypertension.
The three medications are:
Hyperten Tablet
Losagen Tablet
Losartas Tablet
An estimated 137,000 Singaporeans are currently using these medications.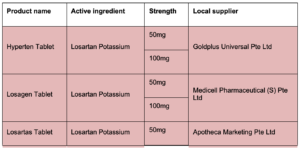 What is Nitrosamine?
Nitrosamine impurities, including NDMA, NDEA and NMBA, are potential human carcinogens based on carcinogenic effects observed in animal studies. The potential risk of cancer is with long-term exposure to unacceptable levels of the impurities. Nitrosamine compounds can also be found in very small quantities in certain food products (e.g. pickled vegetables, salted fish and processed meat products) and tobacco products.
The presence of carcinogenic impurities is generally unacceptable in medicines, unless in unavoidable circumstances. In these instances, stringent limits are set based on international harmonised guidelines. The internationally acceptable daily intake level is determined based on a cancer risk of 1 in 100,000 for exposure over a lifetime (i.e. over 70 years).
The levels of NMBA detected in the 3 brands of losartan products are in trace amounts which exceeded the acceptable limit of 96 ng/day. The potential risks are associated with long term exposure. However, as the levels of NMBA exceeded the acceptable limit, the products are being recalled.
What Caused the Contamination?
Contamination of ARB medicines with nitrosamine impurities is a new and evolving issue. HSA is working with the companies and international regulatory authorities to identify the root causes of the contamination and the measures to address the issue.
Preliminary evaluation suggests that the impurities may be generated when specific chemicals and reaction conditions are present in the manufacturing process of the active ingredients, particularly during chemical synthesis of the tetrazole ring structure in ARB medicines. HSA will closely monitor the situation. Should new impurities be detected, HSA will take the necessary regulatory actions including further testing of locally marketed products.
Are Other Brands Of Losartan Safe?
The other 7 brands of losartan (containing single-ingredient losartan) are not affected by NMBA contamination based on HSA's testing and available information to-date. These medications are:
Cozaar
Losartan Hexal
A-Losartan
Rosart
Myotan
Sartocad
Lozarsin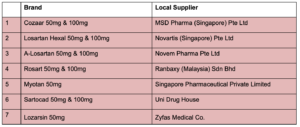 What Should You Do If You Are Affected?
If you are taking the medications which are recalled (Hyperten,
Losagen, Losartas), you are advised not to stop treatment on your own as there is no immediate health risk associated with taking the affected medicines. Stopping these medications abruptly will cause your blood pressure to go out of control, and pose greater and more immediate risk to your health.
HSA advises patients who are taking these medications to do the following:
a) Do not stop taking the medicines on your own until you have been provided with a replacement brand of losartan or a different medicine by your healthcare provider.
b) Discuss your medication and treatment plan with your healthcare provider. Your healthcare provider has been advised to make arrangements to review and provide you with alternatives or other therapies.
c) Only three of the ten losartan products in Singapore – Hyperten, Losagen and Losartas – contain the nitrosamine impurity. Consult your healthcare provider if you are unsure if you are taking an affected brand.
d) You can contact the HSA hotline at Tel: 6866 3538 or email: contact_hprg@hsa.gov.sg if you have further enquiries.
HSA has also advised your doctors to review the medicine and treatment plans:
stop prescribing the affected brands of losartan products
review the appointment date and treatment needs of patients currently on these medicines
provide them with alternatives or other suitable therapies
If you know anyone taking these medications or are concerned if your medicine contains this ingredient, do reach out to your doctors to review your medications.