SGD $59.90 for 80 ml
Body Shop's new range of products, Oils of Life, continues the botanical oil trend – and features a mixture of essential and seed oils in their skincare. The range includes the Oils Of Life Intensely Revitalising Facial Oil, Oils of Life Intensely Revitalizing Cream, Oils Of Life Intensely Revitalising Bi-phase Essence Lotion, and Oils Of Life Intensely Revitalising Sleeping Cream.
Ok, we get it. Oils Of Life is supposed to be INTESNSELY REVITALISING. Lets have an in-depth look into one of the star products of the range: Oils of Life Intensely Revitalising Sleeping Cream. 
The Claims: Body Shop OILS OF LIFETM Sleeping Cream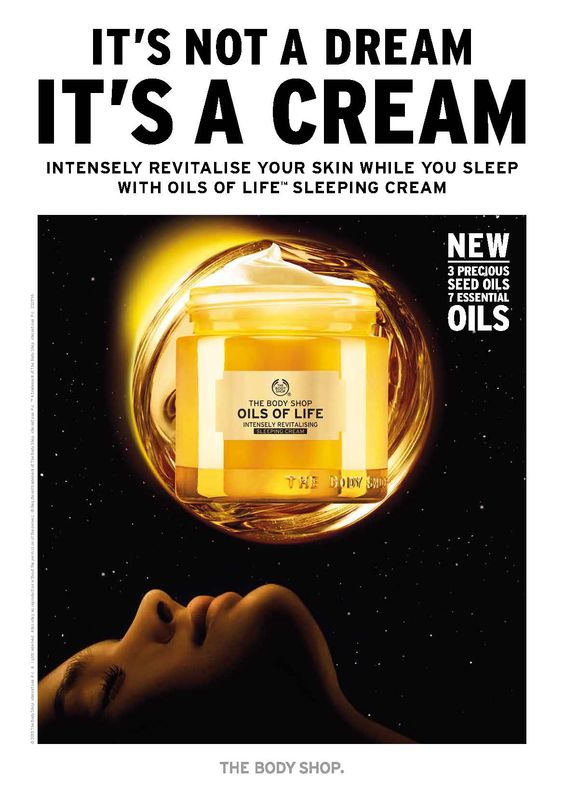 "Its Not a Dream, It's a Cream
OILS OF LIFE TM Sleeping Cream
Intensely Revialise Your Skin While You Sleep"
"We searched the world and selected 3 precious seed oils known for their revitalising and repairing properties on skin:
Black cumin oil from Egypt, known for its concentration in antioxidants
Rosehip oil from Chile, rich in repairing Omega 3 and 6
Camellia oil from China, naturally rich in nutritive oleic acid.
By infusing them with a powerful blend of 7 essential oils: Lavender Oil, Leaf Oil, Orange Peel Oil, Lavandin Oil, Majoram Leaf Oil, Rosemary Leaf Oil, Roman Chamomile Oil, we created am Intensely Revitalising Sleeping Cream to regenerate skin during the night"
Instantly: Skin feels suppler and velvety soft
From 1st wake up: skin feels smoother and intensely nourished
Night after night: skin appears rested, more radiant and visibly revitalized.
In self assessment tests on 75 Asian Women,
89% agree that skin feels more supple
88% agree that skin feels more nourished
73% agree that skin looks visibly rested
Lets see how these too-good-to-be-true claims hold up…
Packaging/Texture/ Scent: Body Shop OILS OF LIFETM Sleeping Cream
Oils of Life Sleeping Cream comes in a beautiful golden orange jar with a black turn cap. Unforutnately, I am never a fan of Jar Packaging. Many beneficial ingredients break down on contact with air – with a jar that process happens everytime you take off the lid. Dipping your fingers into the a jar to scoop up the cream may also cause the ingredients to break down even faster. I very much prefer airless pump dispensers for beauty products.
Oils of Life Sleeping Cream is a surprisingly lightweight for a night cream. On application it is absorbed quickly, giving a matte finish. There is a slight oily sensation, but nothing to much to be bothered about.
The cream has a moderate to strong spicy fragrance. Unfortunately, the fragrance is not form the essential oils alone: In the ingredients list, you can see that "fragrance/parfum" and Citronella oil was added in greater concentration than the ret of the essential oils. The fragrance was too overpowering for my liking.
Ingredients/ Efficacy: Body Shop OILS OF LIFETM Sleeping Cream
Botanical oils have been shown to have anti-aging, calming and other beneficial effects on the skin. I am personally a big fan of rosehip seed oil for cosmetic uses.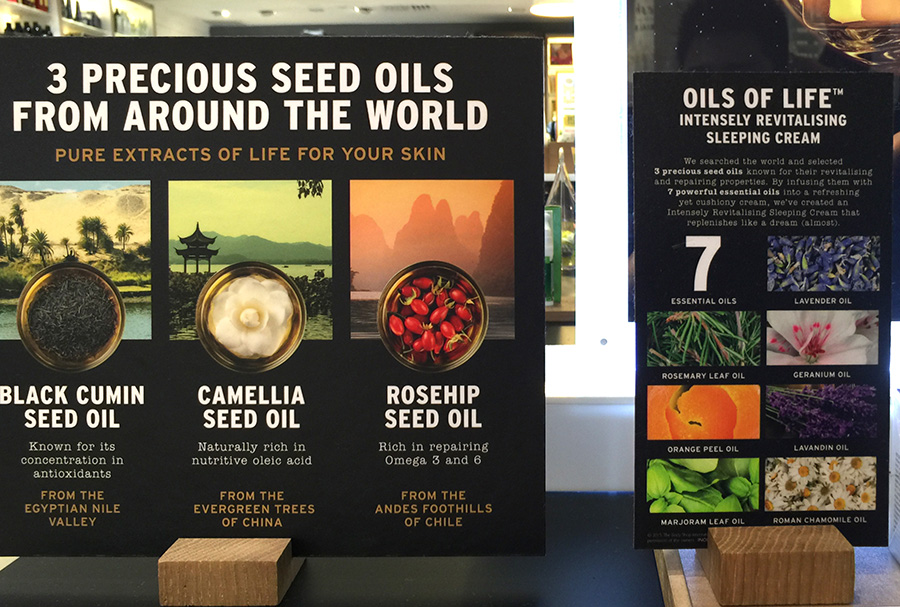 Here are the oils I can identify in the ingredient list of Oils of Life Sleeping Cream:
Fagus Sylvatica Bud Extract
Nigella Sativa (black cumin) Seed Oil
Olea Eurepaea (Olive) Fruit Oil
Rosa Canina (Rosehip) Fruit Oil
Camellia Oleifera Seed Oil
Graveolens Flower Oil
Rosmarinua Officinalis (Rosemary) Leaf Oil
Origanum Majorana Leaf Oil
Annthemis Nobilis Flower Oil
Coumarin
Lavandula Angustifolia (Lavender) Oil
Lavandula Hybrida (Lavandin) Oil
Citrus Aurantiu Dulcis Peel (orange peel) oil
Very strangely, the ingredient present in the largest concentration – Fagus Sylvatica, or Beech Bud Extract, is not listed in the posters or brochures. Beech Bud Extract is a popular skin care ingredient, claimed to be rich in peptides and to smoothen fine lines. It is found in several The Body Shop, Jurlique, and Vichy products. However, there are no studies available to backup these claims.
The Seed Oils:
Fortunately, the 3 Seed Oils are more promising ingredients.
Rose Hip Seed oil is a great moisturizing oil with anti-oxidant properties
Black Cumin Seed has been used in Aryuvedic medicine for centuries – it is rich in viamins A, B, C, and minerals, which may help restore youthfulness to the skin. There are also reports of Black Cumin Seed having anti-acne and anti-redness properties.
Camellia Seed Oil – also known as Tea Oil, is an extract of the tea plant, and used for cooking in China for centuries. Camellia Seed oil is an excellent moisturizer with emolliet propterties. Like Green Tea – it has anti-oxidant, anti-inflammatory and anti-aging effects on the skin.
The Essential Oils:
The essential oils used are more tricky, with some hits and misses:
Majoram Leaf Oil is a known skin irritants, with no proven skin benefits otherwise other than adding fragrance.
Although Rosemary Oil contains some anti-fungal, anti-bacterial and anti-oxidant benefits, it too, can irritate skin. Similarly, Geranium oil possesses some anti-oxidant effects, but can irritate skin. Geranium extract, rather than oil, would have been a much better ingredient.
Orange Peel Oil is more promising as a skin care ingredient – rich in Vitamin C.
Chamomile Oil is the best of the essential oils here: it has good anti-oxidant, anti-bacterial and anti-inflammatory properties, and is often used to combat acneic skin.
Lavender oil has gotten a bad reputation for causing skin irritation – but new research shows that it also possesses anti-inflammatory properties, aids wound healing, and works against acne causing bacteria. It also protects against ultraviolet damage from the sun, acting as an antioxidant. Lavandin Oil is very similar to Lavender oil – with anti-oxidant properties but also a possible risk of skin irritation.
With a powerhouse of beneficial seed oils and essential oils, you will see some good moisturizing effects on initial use, and skin brightening/ reduction in wrinkles/acne/redness with more prolonged use.
Full ingredient list: Body Shop OILS OF LIFETM Sleeping Cream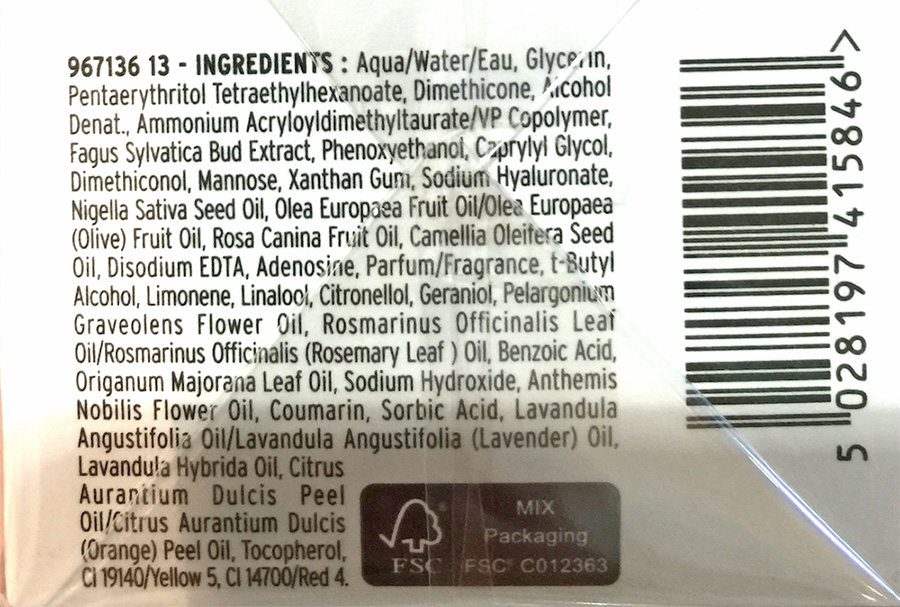 Precautions :   Body Shop OILS OF LIFETM Sleeping Cream
The more ingredients there are, the higher the chance that you may develop a reaction to one of them if you have sensitive skin or known contact dermatitis. Plant extracts are no exception. Unfortunately, there are several ingredients here which can cause skin irritation: Majoram oil, Rosemary Oil, Geranium Oil, Lavender Oil, Lavandin Oil, Citronellol, added Fragrance
If you have sensitive skin, be VERY careful with this product. Try the product on in a small inconspiciuous area such as behind the ear, before using it on the rest of the face
Who It Is Good For
Men and women with normal to combination skin looking for a night cream. This will be helpful for acneic skin too.
Most suitable age range: 30s – 40s
Conclusion :   Body Shop OILS OF LIFETM Sleeping Cream
Body Shop OILS OF LIFETM Sleeping Cream is a product worth looking at. It has a good texture, and some ingredients with proven benefits. Having said that, like many other commercial products, it contains many ingredients which have no proven benefits – and may even cause skin irritation instead. One almost woner why they chose certain oils, such as Majoram, which has no purpose other than fragrance.
At SGD $59.90 for 80 ml, this is a very affordable night cream with good ingredients. If you do not have sensitive skin, do try it out!
Score : Body Shop OILS OF LIFETM Sleeping Cream  
Packaging/ Scent      :          2.5/5
Texture                      :           4/5
Ingredients:               :           3.5/5
Price                          :           4.5/5
Overall Rating          :       3.625/5
The views expressed in this article are entirely my own, and should not replace a consultation with your doctor. I am not sponsored by The Body Shop in the review of this product.