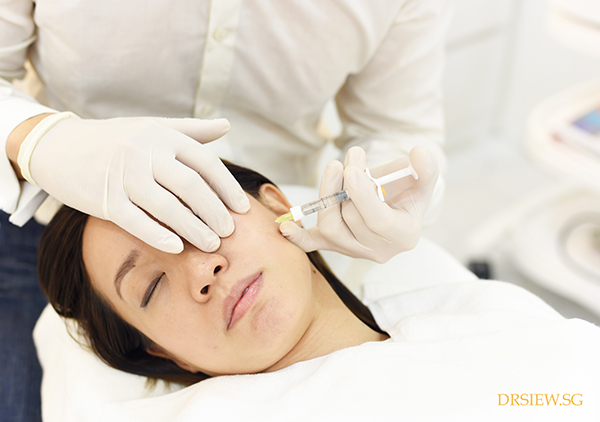 It is not an exaggeration to say that Restylane SkinboostersTM has taken the world by storm. These days, "水光针" seems to be on everyone's mind and lips. "水光针", Skinbooster's Chinese (and more popular) name, literally translates to "water bright injections" – a succinct, accurate description of this skin rejuvenation treatment.
Skinboosters treatment is not a to-good-to-be-true fairytale. It is based on science, but like all treatments, there are pros and cons, and there are things it can and cannot do. Here's what you need to know.
Restylane Skinboosters: What is it?
Restylane SkinboostersTM is a filler treatment which improves skin hydration, firmness and luminosity, through micro-injections of a very soft hyaluronic acid filler into the skin (Restylane Vital or Vital Light).

How Does It Work? How is Skinboosters Different From Other Fillers?
Fillers typically work by filling up volume deficiencies and lifting the skin. For example, the harder fillers in the Restylane family such as SubQ are great for sculpting the chin. Skinboosters, on the other hand, are extremely soft. Instead of exerting mechanical effects, they work via its biochemical properties.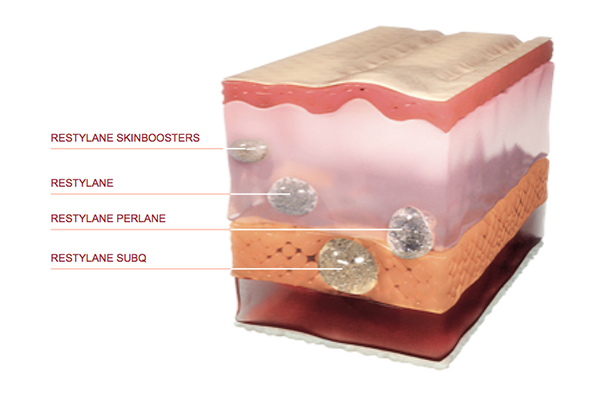 Hyaluronic acid is a naturally occurring sugar molecule in our skin. It gives our skin the plumpness and hydration associated with youthful, healthy skin. However, over time, our skin loses collagen, elastin and hyaluronic acid, and it becomes drier, rougher and less elastic.
Restylane Skinboosters reverse the skin aging process by reintroducing hyaluronic acid into the skin. Once injected, the water-loving hyaluronic acid molecules start to absorb water up to 200 times its weight and swell, bringing about profound hydration to the skin from inside out. With dramatically improved hydration, the skin looks plumper, brighter, and more youthful.
At the same time, the Restylane Vital start to stimulate collagen production once injected, giving long term, anti-aging effects.
What are the Benefits?
Restylane Skinboosters are excellent for improving skin texture and tone. Unknown to most, Skinboosters also improve acne scars by plumping them up. The benefits of the treatment include:
Smoother skin
Improvement in fine lines and wrinkles
Firmer skin
Brighter, more luminous skin
Better skin hydration
Improvement in acne scars
Is it REALLY That Great a Treatment?
Dr Lam Bee Lan, a fellow doctor with a wealth of experience with Skinboosters, always has this to say: "It is my belief that everyone should have Skinboosters treatment, because everyone and anyone can benefit greatly from it." And I agree with her wholeheartedly. There are very few treatments, if any at all, which can give the same dramatic improvement in skin texture and colour. For this reason, Restylane Skinboosters has earned its place in the aesthetics hall of fame, and is highly sought after by men and women, especially Asian celebrities.
Which Areas can Be Treated?
Restylane Skinboosters is most often performed on the face and neck, but other areas on the body such as the décolletage can also be treated. In particular, the treatment works extremely well to rejuvenate the hands.
What are the Different Ways of Administering the Treatment?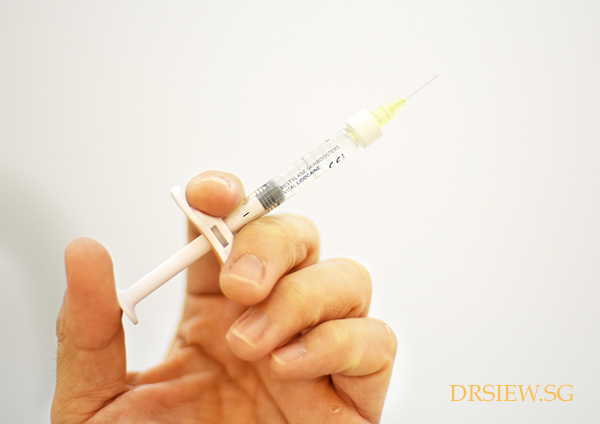 Restylane Skinboosters are introduced into the skin via microinjections. This can be done with a small needle, or with an injector gun (popularly called the 水光枪). The injector gun sucks the skin before 5 micro-needles deliver the product into skin, and promises to give a more comfortable treatment experience.
Personally, I prefer to use the traditional injection method – using my bare hands, as it allows me to have more control over clinical outcome. Everyone's skin needs are different, and I personally feel that no machine can replace the clinical acumen of a seasoned pair of hands – but this is really a matter of the doctor's choice.
The injector gun makes the job easier for the doctor, but the suction can cause bruising. Furthermore, the injector gun often wastes a significant amount of filler – with the gun, I find that at least 20% of filler is not delivered into the skin, and my patients do not get the best results.
What is the Treatment Regime? How Long Does it Last?
Restylane Skinboosters is best done monthly for 3 treatments. The initial intense regime is to ensure that the skin is saturated with hyaluronic acid, and that the treatment kickstarts collagen production process to reverse skin aging.
Subsequent treatments are done every 6 months. The treatment lasts about 6 months.
Who Is Suitable for The Treatment?
Anyone can benefit from the treatment, but in particular, people with dry, aged or dull skin, with large pores, will see the most results. People who have depressed acne scars will also benefit greatly.
What are the Downsides of Restylane Skinboosters? Any Side Effects?
The biggest downside is cost. 3 treatments monthly can set you back by anything from SGD $3000 – $5000. But the good news is that after the initial course, you only need to do it once every 6 months.
Injection related side effects, such as temporary swelling, bruising and pin-prick marks will occur. The degree of these side effects will depend on how sensitive your skin is, the methods your doctor uses to inject, and of course, his or her skill as well. When injected precisely and accurately into the right skin layer, there will be minimal bruising – most of my patients do not have problems going back to work, and other social activities.
Bumpiness on the skin can occur – because these are fillers after all. However, these are mostly temporary, and resolve quickly with some gentle massage.
What Preparations Do I Need to Make?
Please avoid alcohol, NSAIDS (such as aspirin and Synflex), and any supplements which can thin the blood (including Vitamin E, garlic, ginseng) for 2 days before and after the treatment to minimize bruising.
Avoid swimming, strenuous exercise and going to a sauna for a day after the treatment.
Anything I need to Look Out For?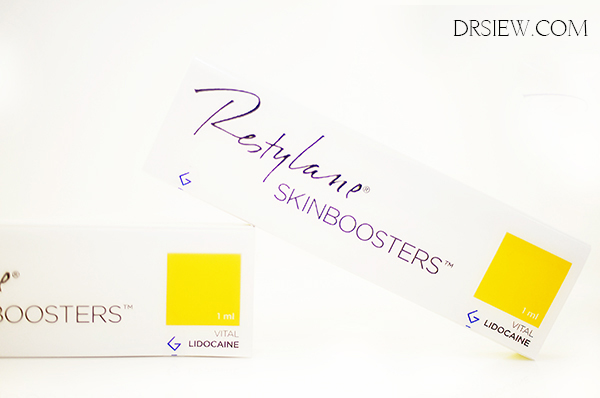 Restylane Skinboosters refers to a treatment which specifically uses the Restylane fillers – Vital and Vital Light. It can only performed by a doctor. Restylane Vital and Vital Light give such good results because they possess exactly the right properties which can give your skin long-lasting hydration and effects. Don't be afraid to ask your doctor what is being injected into your skin before you get the procedure done.
In general, it takes 2mls of fillers to treat the whole face, and 3mls to treat the face and neck, but this can vary. If you are on a tight budget, consider treating not the entire face, but only parts of it (for example, only the cheeks or forehead) which you are most concerned about.
Restylane Skin Boosters come with some degree of downtime, as it involves numerous injections. So remember to have it done at least a week before your important event.
Most importantly, have a conversation with doctor, and don't be afraid to know everything you need to know about the procedure, before deciding to have it done.
May you succeed in your quest for radiant, youthful skin!