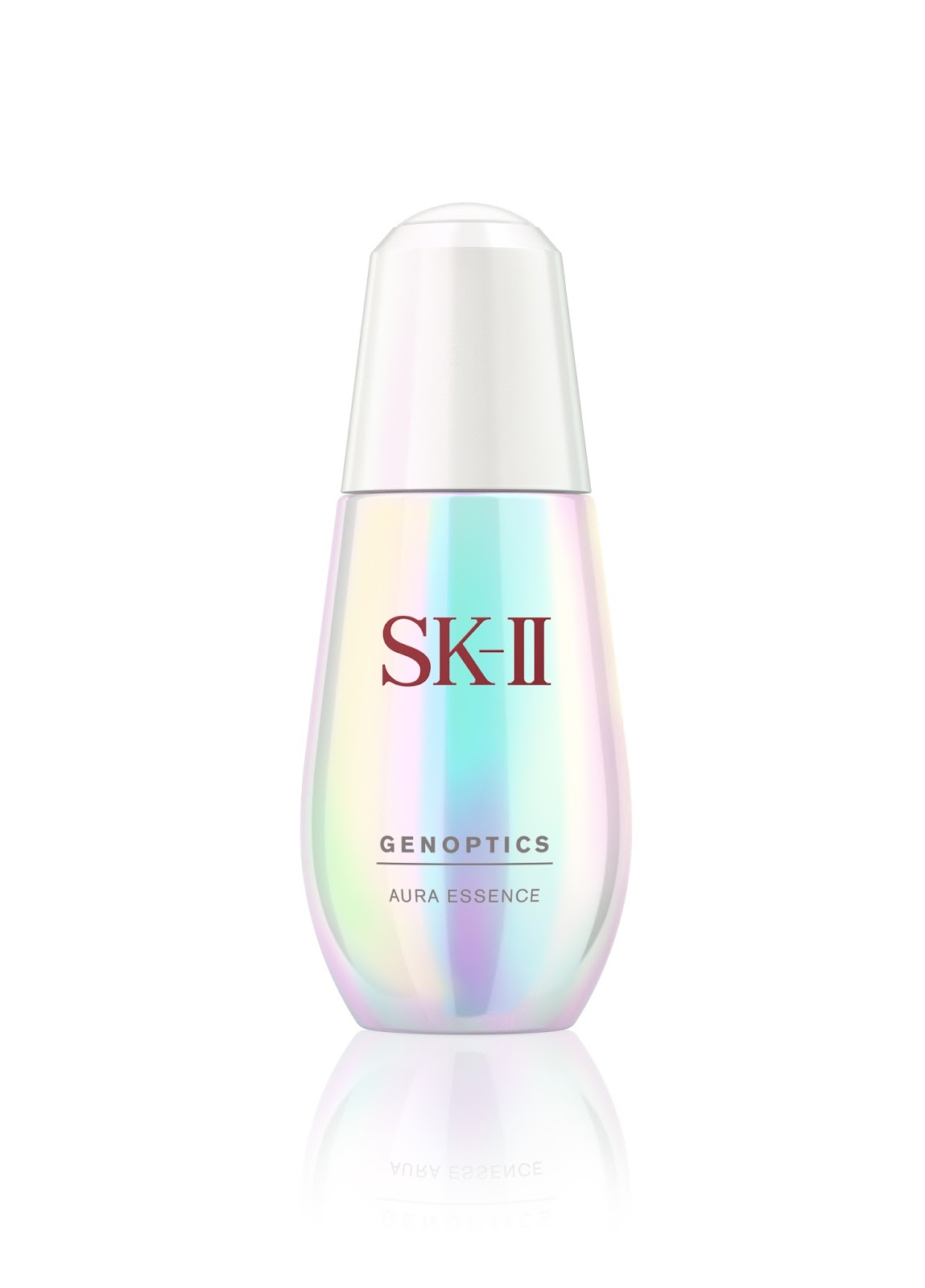 SGD $199 for 30 ml
SGD $299 for 50 ml
 SK II's new top of the range Genoptics Aura Essense promises to be the aswer to skin whitening. At $199 for a 30ml bottle, it is their most highly priced product yet – prompting many to wonder if it is really worth the price. Here's an in-depth review to help you make your decision.
The Claims: SK II Genoptics Aura Essence
"SKII's new essence contains the latest breakthrough in Whitening technology. Re-coded with PITERATM infused GenOptics Aura Complex, it reduces your skin's hidden and visible spot formations to reveal a spot-less aura glow. This leaves skin looking radiant from within.
PITERA: A concentrated formula full of vitamins, amino acids, minerals and organic acids.
Prunus Extract : Extracted from prune fruits, containing antioxidants, vitamins and minerals to prevent oxidation stress.
Inositol: Promotes lysosome activity for increased skin clarity
With a new, specially designed auto-fill dropper, one full drop will provide the optimal dosage for best results."
Packaging/Texture/ Scent: SK II Genoptics Aura Essence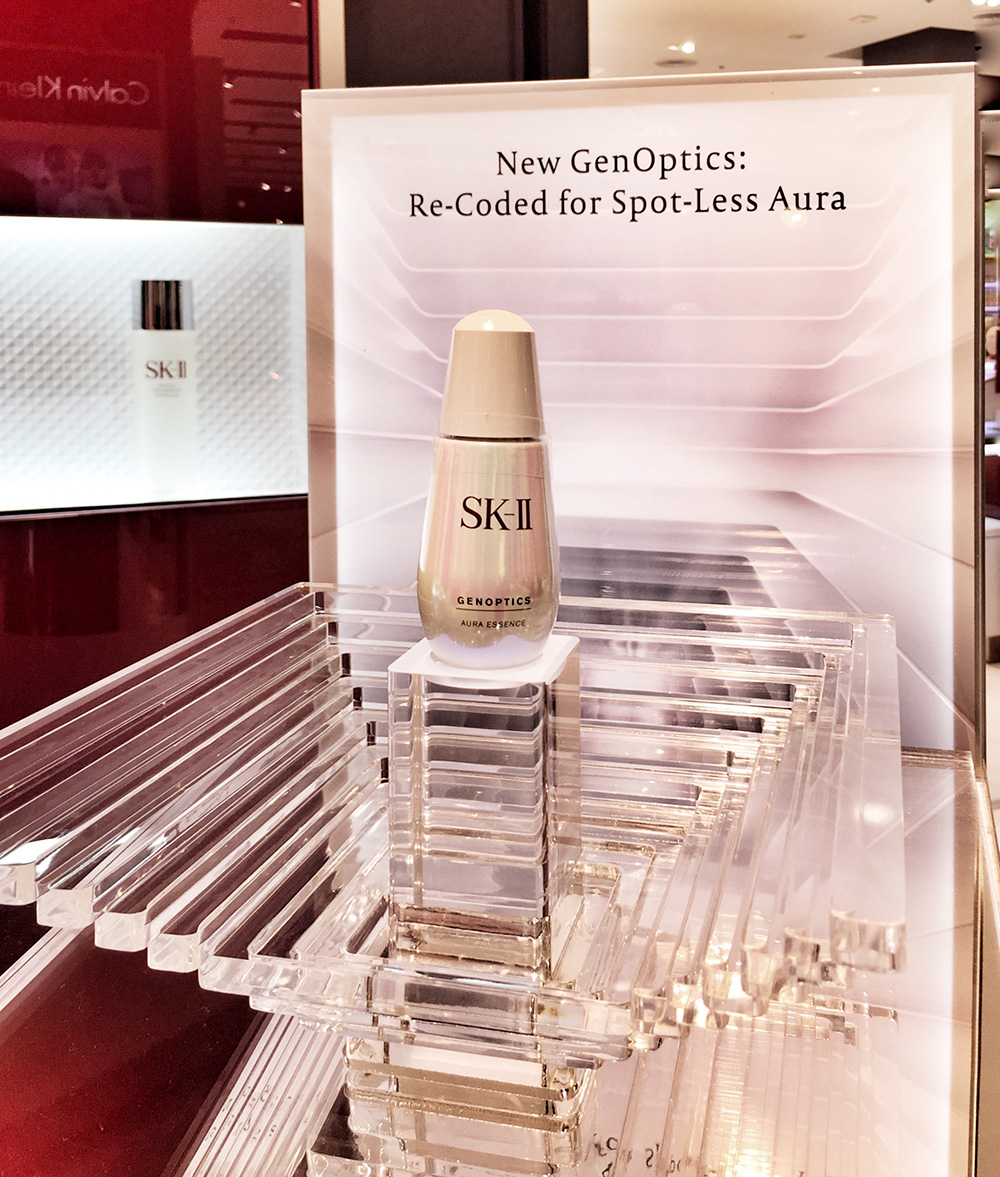 EVERYTHING about SK II Genoptics Aura Essense is meant to ooze beauty and an other worldy brilliance. The elegantly rounded bottle is a beautiful reflective white which emits a rainbow of colours.
It comes with a pleasant scent, and immediately gets absorbed into the skin to give a whitening, matte finish. The dropper allows ease of use, without having to dig your fingers into the bottle.
Ingredients/ Efficacy: SK II Genoptics Aura Essence
SK II Genoptics Aura Essense contains the "Genoptics Aura Complex" – made up of: Pitera, Prunus Extract, Inositol.
 SK II's star ingredient Galactomyces Ferment Filtrate, or Pitera, an organic compound derived from yeast, is said to be full of vitamins, minerals and amino acids which repair damaged skin and improve skin regeneration. Indeed, Pitera has been shown in in-house studies to improve skin colour and texture, exert anti-aging benefits, and stimute collagen to improve skin elasticity. Reviews from SK II's many users have been mixed to positive – It is not the miracle ingredient SK II makes it out to be, but many do notice improved skin with continued use.
 Genoptics features Prunus Mume fruit extract as its second star ingredient, Also known as Chinese plum, Prunus Mume fruit is used to make juices, alcohol (Umeshu and the very loved Choya!), sauces, and in traditional medicine.
The fruit has long been used as a medicine, shown to have antimicrobial effects, and to be useful for gastritis. It has also been show to a free radical scavenger and inhibitor of pro-inflammatory mediators in mice1. Studies has shown that it has potential effects protecting the skin from cancer through its antioxidant effects2, and importantly, that it has skin whitening effects by inhibiting the production of melanin3. This ingredient is also used in Sulwhasoo products.
Unfortunately, Prunus Mume fruit extract, good as it is, is present only in minute quantities in SK II Genoptics Aura Essence – we do not know what how efficacacious it is as an active ingredient.
Finally, Insitol is simply an alcohol sugar, found widely in nature – such as oranges. It is a white poweder and has a sweet taste.It has been used as a medicine for psychiatric illnesses, and for drug dependence. There is some evidence to suggest it protects against ultraviolet damage4, and it is sold as an oral supplement for skin problems like eczema (but with little evidence that it works). Most of the studies are done on oral inositol, not topical. It smoothens the skin through its water binding capabilities, but as a skin ingredient, it is really nothing to shout about.
Unfortunately, besides Pitera, Genoptics Aura Essense doesn't feature nothing very much in terms of active ingredients. Prunus Meme is present in too small a quantity to have any likely effect, while Inositol is just glorified sugar. Sad to say, I am not at all convinced by the Genoptics Aura Complex.
Full ingredient list:
Pitera (Galactomyces Ferment Filtrate), Niacinamide, Butylene Glycol, Triethylhexanoin, Glycerin, Pentylene Glycol, Nylon-12, Phytosteryl / Octyldodecyl Lauroyl Glutamate, Polymethylsilsesquioxane, Boron Nitride, Caprylic / Capric Triglycerin, Inositol, Panthenol, PEG-20 Sorbitan Cocoate, Mica, Acrylates / C10-30 Alkyl Acrylate Crosspolymer, Phenoxyethanol, PEG-11 Methyl Ether Dimethicone, Polyacrylamide, Aminomethyl Propanol, Benzyl Alcohol, Undecylenoyl Phenylalanine, C13-14 Isoparaffin, Disodium EDTA, Hydrolyzed Prunus Domestica, Hexyldecanol, Sodium Benzoate, Xanthan Gum, Fragrance, Laureth-7, Citrus Reticulata (Tangerine) Peel Extract, Ascorbyl Glucoside, Methylparaben, Prunus Mume Fruit Extract, Titanium Dioxide, Water
Precautions :  SK II Genoptics Aura Essence
While Pitera is large safe, I have seen cases, though rare, of allergic reactions to it. If you have sensitive skin, be sure to test the product in in an inconspicuous area first – such as behind the ear, when using a new product. If reactions such as redness, itchiness, or swelling occurs, remember to consult your doctor. The other ingredients appear safe.
Who It Is Good For
People who have excess money to spend, and wish to have a product which looks, smells and feels good.
Conclusion: SK II Genoptics Aura Essence
 While SK II Genetics Aura Essence is a great looking product with solid marketing – you are probably paying mostly for the looks and advertisements should you decide to get this product. The active ingredients, besides Pitera, are nothing to shout about, and a bit of a disappointment, really.
I will suggest that you stick to the more affordable SK II Essense instead if you are looking for a Pitera beased product, unless you have a lot of excess money to spare.
Score : SK II Genoptics Aura Essence
Packaging/ Scent/ Texture     :           4/5
Ingredients:                            :           3/5
Price                                       :           1/5
Overall Rating                        :         2.6/5
The views expressed in this article are entirely my own, and should not replace a consultation with your doctor. I am not sponsored by SK II in the review of this product.
References:
1. Fermented Maesil (Prunus mume) with probiotics inhibits development of atopic dermatitis-like skin lesions in NC/Nga mice. Jung BG et all
2. Fermented Prunus mume with probiotics inhibits 7,12-dimethylbenz[a]anthracene and 12-o-tetradecanoyl phorbol-13-acetate induced skin carcinogenesis through alleviation of oxidative stress. Lee JA et al
3. Acylated sucroses and acylated quinic acids analogs from the flower buds of Prunus mume and their inhibitory effect on melanogenesis.Nakamura et all
4. Protective effect of inositol hexaphosphate against UVB damage in HaCaT cells and skin carcinogenesis in SKH1 hairless mice. Williams KA et all