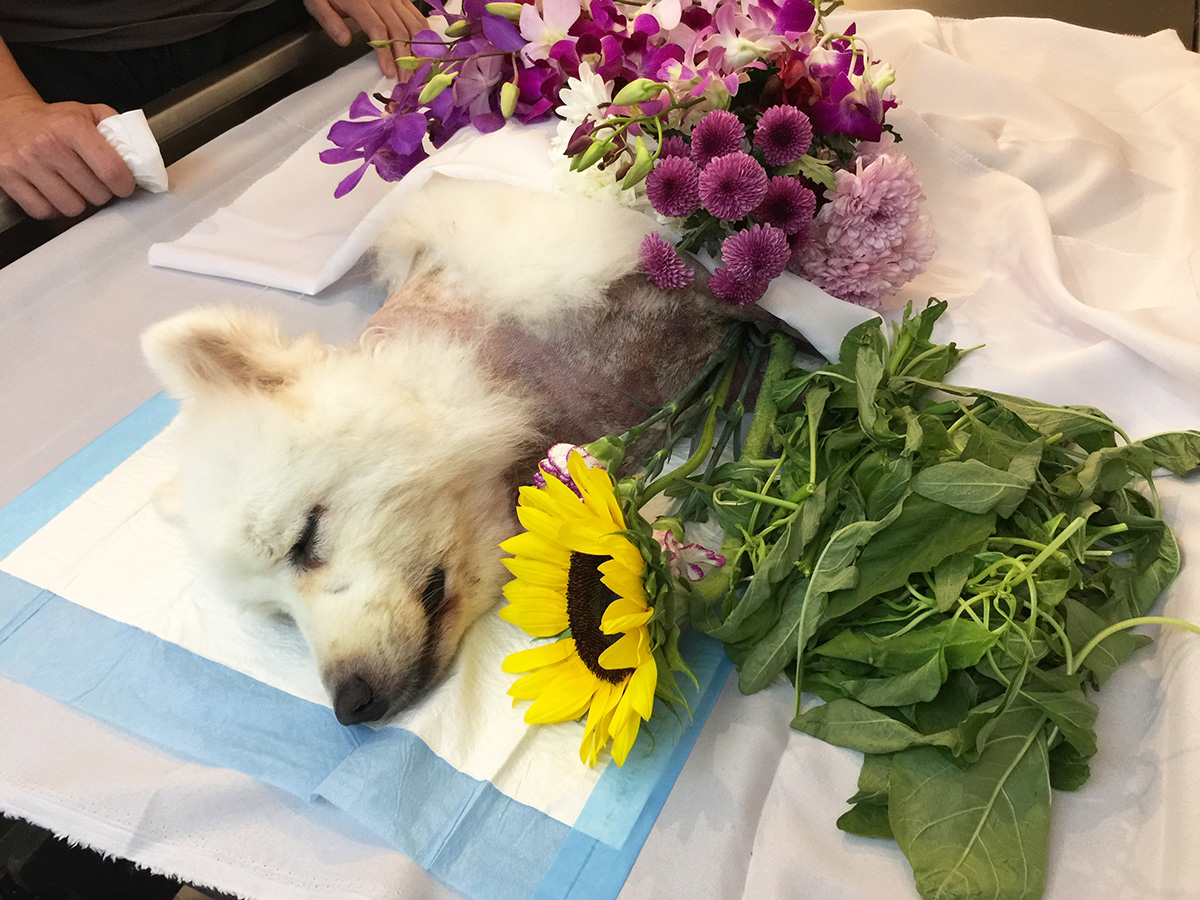 A year ago, my first dog, a neurotic Japanese Spitz called Nugget, passed away suddenly in a horrific accident. His untimely death was the hardest event I had to endure in 38 years of my life.
I wrote an article some time ago, describing why I felt our dogs' deaths are so difficult to deal with.
It was Nugget's first death anniversary recently. If you are out there, and you have recently lost your beloved dog, I hope that these little bits of my experiences will make your grieving process a little easier:
We will always miss our departed canine companions, no matter how many years have passed since their death.
There will come a time when you will stop crying, and feel like you can continue your daily work again. That does not mean you don't love them anymore. It just means that you have picked up enough strength to carry on.
You will still miss them, everyday. Some days more, some days less, but they will always be there, in your mind.
There will be a time when you think don't feel the hurt and sadness anymore, but one day there will be a song, a video, which will bring back the memories, the tears and the hurt. The pain will be as fresh and real as it was before. This does not mean you are weak, or that you have not recovered from grieving. It is normal- and just means that you truly loved your departed dog.

Nugget thought he was the centre of the universe. Food was his greatest love.

I believe there is an afterlife – whichever religion you believe in. If you are Christian or Muslim, take heart that you will meet them again after your time on this Earth.If you are Buddhist or Hindu, reincarnation is an integral part of existence. Believe me, this was not the first time you met your dog, and it will definitely not be the last. Your paths will cross again, whether in this life, or in the next.
Whatever hurt and pain you feel now will never be greater in magnitude than the joy you had when your dog was still alive. Hence, never for a moment think that you should not have gotten him or her in the first place, to save yourself this heartbreak. Many people also say they will never get another dog again after their first dog passed away.
You will tell yourself that you cannot go through the pain another time, and hence decide never to get a dog again. Please don't do that. There is no greater joy than seeing a dog grow up and grow old; and there is no greater gift than to give an unwanted dog the gift of a home should you decide to adopt one.Your dog would have wanted you to get another one after he/she goes. Who knows, in future, you and your dog could very well meet again, the same way Bailey and Ethan did in A Dog's Purpose.
Experiencing, and surviving the pain of losing a loved one is an integral part of life. You will become a better, more compassionate and loving person, because you had to go through this. This pain, is yet another one of the valuable life lessons which your dog has taught you.
There is no shame in wanted to get another dog who is the same breed, and as similar as possible to your departed dog. For this reason, some people choose to buy a dog again rather than to adopt one. It helps them heal. Much as I am an advocate of adoption, I respect others' decision to look for a dog of the same breed, with similar characteristics.

I know that there will never be another dog who shares the same craziness and quirks as Nugget.

Lastly, there will never be another dog who is exactly the same as your departed canine companion. That's what makes them so difficult to let go of. But take comfort, that every minute of their time with you, was well spent and meaningful. They could not have had a better life with anyone else.
I made a video in memory of my one of a kind, neurotic dog. It is dedicated to all pet owners, who have loved, and lost a furry family member. We all grieve differently, but I think one thing is universal and crystal clear: Our dogs only come into our lives for a moment in time, they live on, forever, in our hearts.