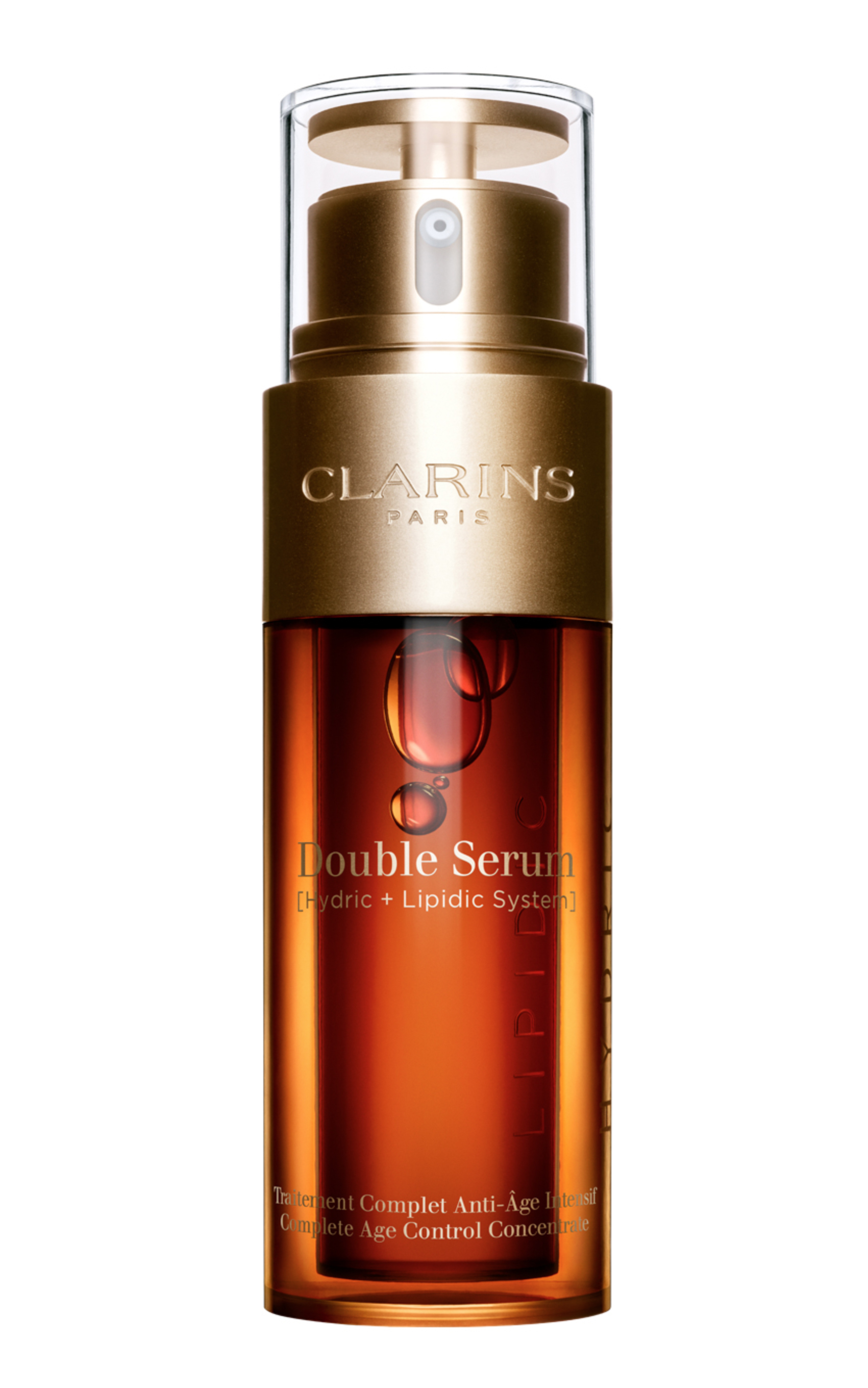 NEW Clarins Double Serum Complete Age Control Concentrate 2017  SGD $125 for 30ml
SGD $170 for 50ml
One of Clarin's top sellers has gotten a makeover, and promises to be even better than before – since its inception in 1985, this is the 8th edition of Clarins Double Serum Complete Age Control Concentrate. The NEW Clarins Double Serum [Hydric + Lipidic System] promises to be their best ever yet.
The Claims : NEW Clarins Double Serum Complete Age Control Concentrate 2017
Clarins says that the new Double Serum is their "most powerful age control concentrate ever".
Clarins says that in their inhouse study of 362 women:
After 7 days:
88% have visibly soother skin
83% have more radiant skin
74% have visibly firmer skin
Lets see how these claims hold up…
Packaging/Texture/ Scent : NEW Clarins Double Serum Complete Age Control Concentrate 2017
Double Serum comes in a plastic brown pump container, for easy dispensing. With each pump, serums from both chambers are dispensed together. You need to mix them in your palm before applying it onto your face.
The serum is on the richer side, and leaves a oily on the skin – absorption takes quite awhile as well. The skin does feel more hydrated after application.
The serum comes with a mild pleasant scent.
Ingredients/ Efficacy : NEW Clarins Double Serum Complete Age Control Concentrate 2017
NEW Clarins Double Serum Complete Age Control Concenrate markets itself as a "Hydric + Lipidic System" from which the name "double serum" derives. Clarins says that it has combined the most powerful water soluble (hydric) and oil soluble (lipidic) age control ingredients to improve wrinkles, pores, skin tone, and skin elasticity.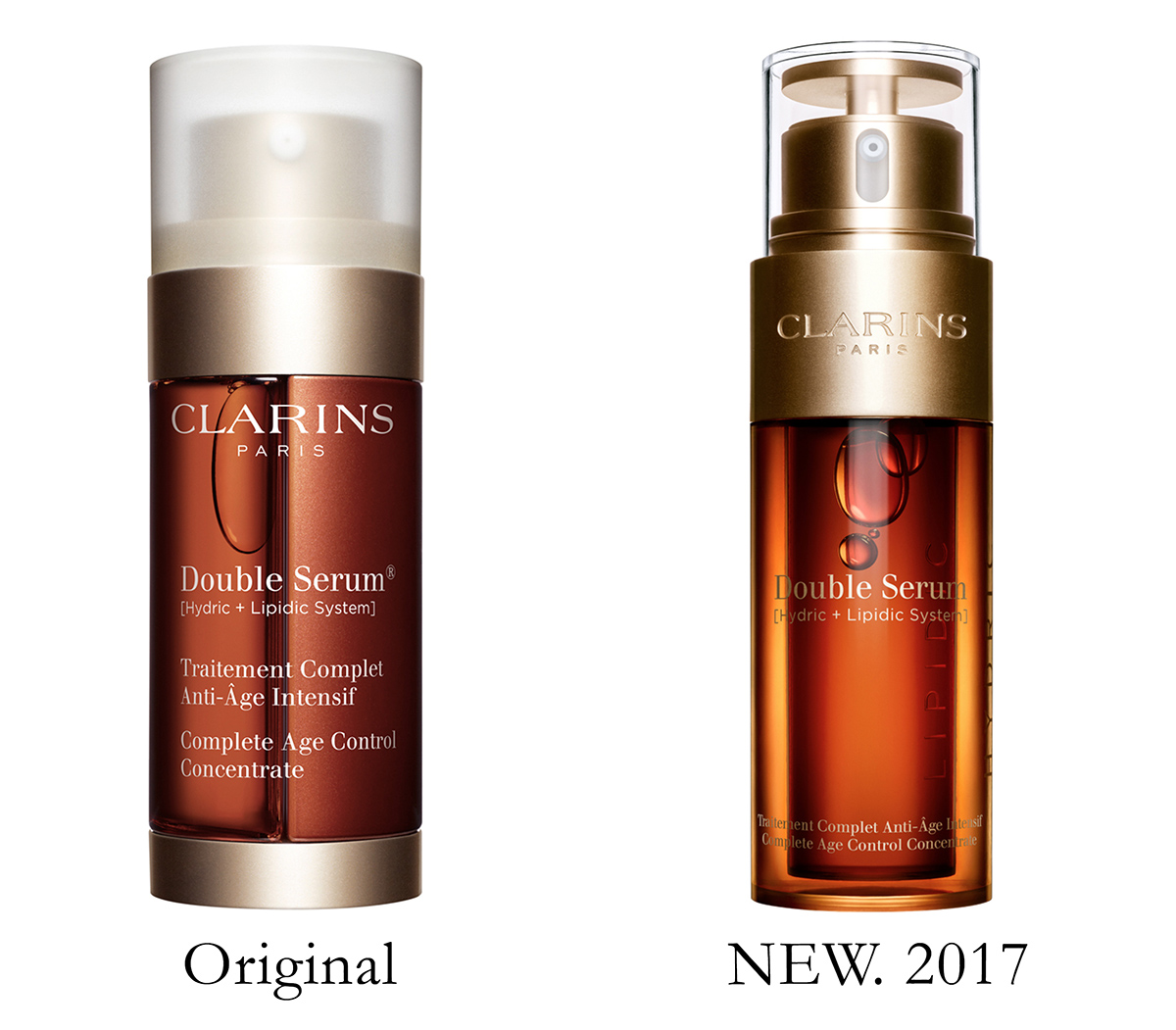 NEW Clarins Double Serum says its now comes with 20+1 plant extracts. A review of their ingredients list review the following extracts:
Present in the previous Clarins Double Serum:
Avena Sativa (Oat) Kernel Extract
Persea Gratissima (Avocado) Oil
Musa Sapientum (Banana) Fruit Extract
Actinidia Chinensis (Kiwi) Fruit Extract
Chenopodium quinoa seed extract
New plant extracts in NEW Clarins Double serum:
Dipsacus Sylvestris extract
Silybum Marianum seed oil
Theobroma cacao (cocoa) extract
Leontopodium alpinum extract
Curcuma longa (turmeric) root extract
Salicornia herbacea extract
Kalanchoe pinnata leaf extract
Myrothamnus flabellifolia leaf/stem extract
Lycium barbarum fruit extreact
Orthosiphon stamineus extrct
Hedychium coronarium root extract
Mangifera indica (mango) leaf extract
Jania rubens extract
Engelhardtia chrysolepis leaf extract
Japonica fruit extract
Impressively, Clarins is determined to make a splash with their new formula. Out of the 21 plant extracts, 16 are all new, not found in the original. But are they any good compared to the previous ones? Some notable plant extracts, such as Tomato, arnica, rosa canina, with know efficacy against skin aging, were omitted, although the reason is unknown.
The plant extracts in the previous Clarins Double Serum which were ommited include:
Oxydendron Arboreum Leaf/Stem Callus Culture Extract
Macadamia Ternifolia Seed Oil
Perilla Ocymoides Seed Oil
Rosa Canina Fruit Oil
Carum Petroselium (Parsley) Extract
Pinus Piniaster Bark Extract
Pistacia Lentiscus (Mastic) Gum
Atracyloides Lancea Root Extract
Solanum Lycopersicum (Tomato) Fruit Extract
Arnica Montana Flower Extract
Cedrelopsis Grevei Bark Extract
Camellia Sinesis (Geen Tea) Leaf Extract
Thymus Citriodorus Flower/Leaf Extract
Arctium Lappa Root Extract
Humulus Lupulus (Hops) Extract
Castenea Sativa (Chestnut) Bark Extract
Althaea Officinalis Root Extract
Helianthus Annuus (Sunflower) Seed Oil
Bocoa Prouacenis Extract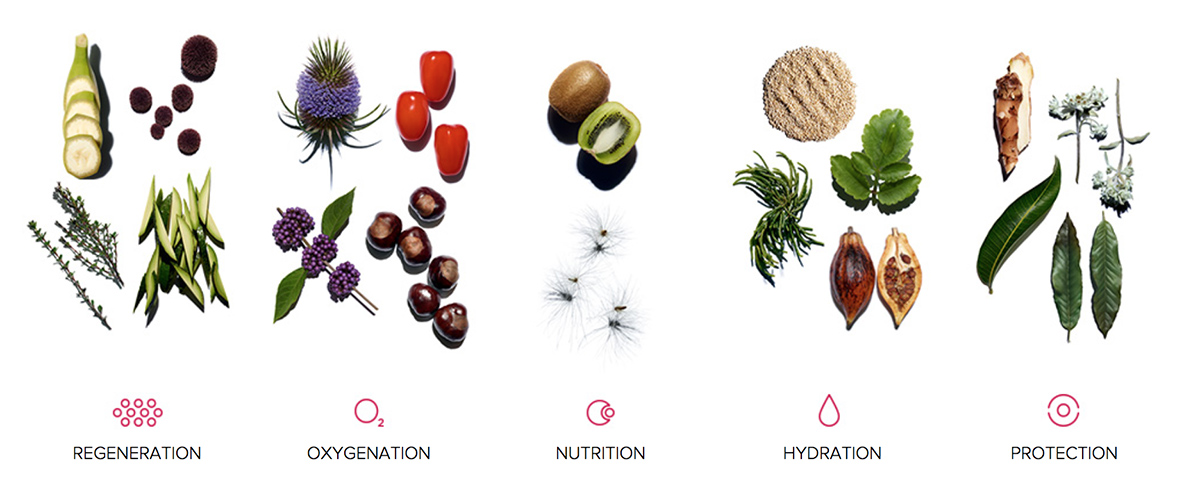 The star ingredient of NEW Clarins Double Serum is Curcuma longa- Tumeric root extract. More and more, turmeric is recognized for its wound healing and anti-inflammtory properties. Much of its beneficial effects are mediated through curcuminoid compounds, especially Curcumin. Curcumin has been reduce blood lipid levels and improve cardiovascular health1. It is thought to inhibit cancer cell activity, and also have anti-bacterial effects2. It is reasonable to say that Tumeric has some beneficial effects on the skin in terms of healing and anti-oxidant protection, although more research is needed to confirm this.
Some ingredients, such as Dipsacus Sylvestris extract (Teazle) was traditionally used as medicine for warts, cankers and fistulas – but there is otherwise no evidence that it is useful for the skin.
Others, like Silybum Marianum (Milk Thistle), and Cocoa, have shown some evidence of anti-oxidant and anti-inflammatory activity3.
While plant extracts have been known to exert anti-aging effects, there is always the question of its efficacy, and how much of the active ingredient there is.
The oils, such as Avacado, will help moisturise the skin, while confering anti-oxidant protection from the environment as well.
Full ingredient list:
Precautions : NEW Clarins Double Serum Complete Age Control Concentrate 2017
The more ingredients there are, the higher the chance that you may develop a reaction to one of them if you have sensitive skin or known contact dermatitis. Plant extracts are no exception. If you have sensitive skin, try the product on in a small inconspiciuous area such as behind the ear, before using it on the rest of the face.
Who It Is Good For : NEW Clarins Double Serum Complete Age Control Concentrate 2017
Men and women with normal to dry skin looking for an all in one serum for skin rejuvenation. Not helpful with acneic skin, but will not worsen it.
Most suitable age range: 40s 
Conclusion : NEW Clarins Double Serum Complete Age Control Concentrate 2017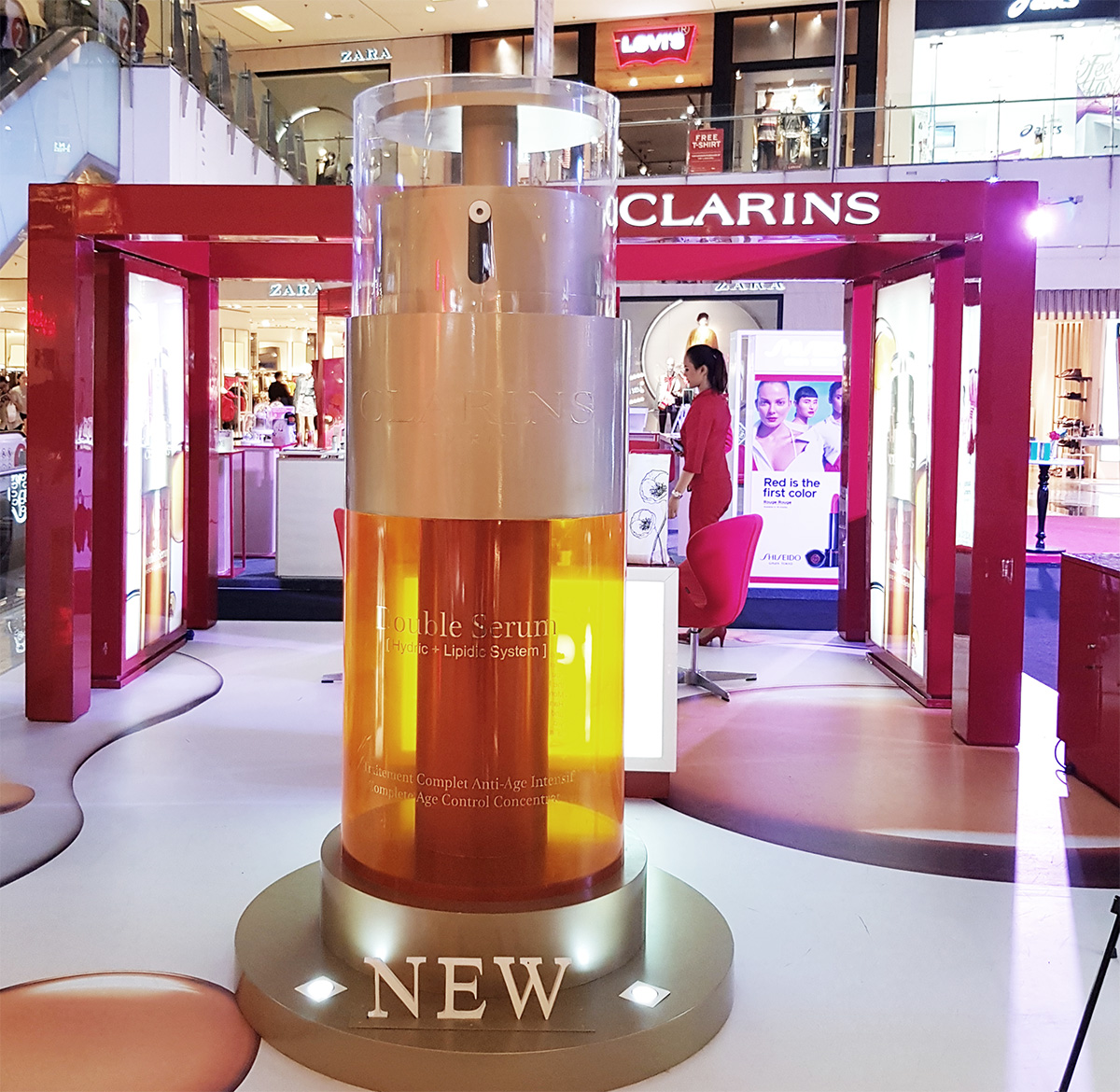 New Clarins Double Serum is a a product to look out for – if you have dryer skin, in search of an anti-aging serum with plant extracts. Like previous versions of the Double Serum, its kiasu approach in adding 21 plant botanicals into works both for and against it. Clarins seems to have streamlined their ingredients, adding new ones, and removing older ones, though the rationale of removing some of the ingredients remain unclear. New additions such as Tumeric, milk thistle and cocoa are definitely a plus and will work towards helping your skin.
While not all of the extracts have proven benefits, some of them definitely do, and will give improvements in skin tone, elasticity and colour with continued use.
At SGD $125 for 30ml, it is reasonable priced, and a good anti-aging product to consider.
Score : NEW Clarins Double Serum Complete Age Control Concentrate 2017
| | |
| --- | --- |
| Packaging/ Scent/Texture | 3.5/5 |
| Ingredients | 4/5 |
| Price | 4/5 |
| Overall Rating | 3.83/5 |

The views expressed in this article are entirely my own, and should not replace a consultation with your doctor. I am not sponsored by Clarins in the review of this product.
References:
1.   Efficacy and safety of turmeric and curcumin in lowering blood lipid levels in patients with cardiovascular risk factors: a meta-analysis of randomized controlled trials. Qin S et a
2.   Potential Role of Curcumin Against Biofilm-Producing Organisms on the Skin: A Review.Vaughn AR et al
Assessment of the Antioxidant Activity of Silybum marianumSeed Extract and Its Protective Effect against DNA Oxidation, Protein Damage and Lipid Peroxidation. Serçe A Et al