Rejuran Healer is a skin healing treatment that has surged in popularity over the last few months. The world cannot seem get enough of skin rejuvenating injection treatments. Skinboosters was the must-have treatment last year, but today, Rejuran Healer, from South Korea has become the treatment on everyone's lips and minds. Rejuran is also commonly referred to as Rejuran Healer, PN, PDRN Therapy, Miracle Healer Injection, or 婴儿针 (Baby skin injections).
What is Rejuran Healer Treatment?
Rejuran Healer is a rejuvenating skin treatment made of biological molecules called polynucleotides (PN). A PN molecule is a biopolymer made up of 13 or more nucleotide monomers bonded together. If nucleotides sound familiar, it is because you probably heard about it in biology class – nucleotides are the basic structural units which make up DNA!
The DNA extract in Rejuran Healer is obtained from salmon, then fragmented into PNs.
How Does Rejuran Healer Treatment Work?
The 2 main effects of Rejuran Healer, or PN/PDRN are:
Wound healing – through stimulation of growth factors, increased microcirculation,
Anti-inflammatory effects – through scavenging of free radicals and blockage of inflammatory cytokines in the body.
Rejuran does this through several mechanisms:
PN/PDRN work by biologically increasing the metabolic activity of cells in the skin called fibroblasts – the fibroblasts in the skin are stimulated to regenerate key components of the skin which we lose with age, such as collagen, glycosaminoglycans and glycoproteins. In other words, PNs awaken tired aged cells to act younger and get to work again.
PN/PDRN act mechanically as a scaffolding for cells and the extracellular matrix to grow – they have a 3-dimensional structure where fibroblasts can use to produce its regenerative effects.
PN/PDRN provide building blocks for DNA synthesis. Through salvage pathways, the PNs are broken down by the body's processes into purines and pyrimidines, then recycled into new DNA again.
What is the difference between PDRN vs PN?
Polynucleotides (PNs) refer to a broader group of molecules. Deoxyribonucleic acid (DNA) and ribonucleic acid (RNA) are all PNs. On the other hand, PRDN – Polydeoxyribonucleotides, refer to a subtype of PNs. Rejuran contains PNs – which also includes PDRN.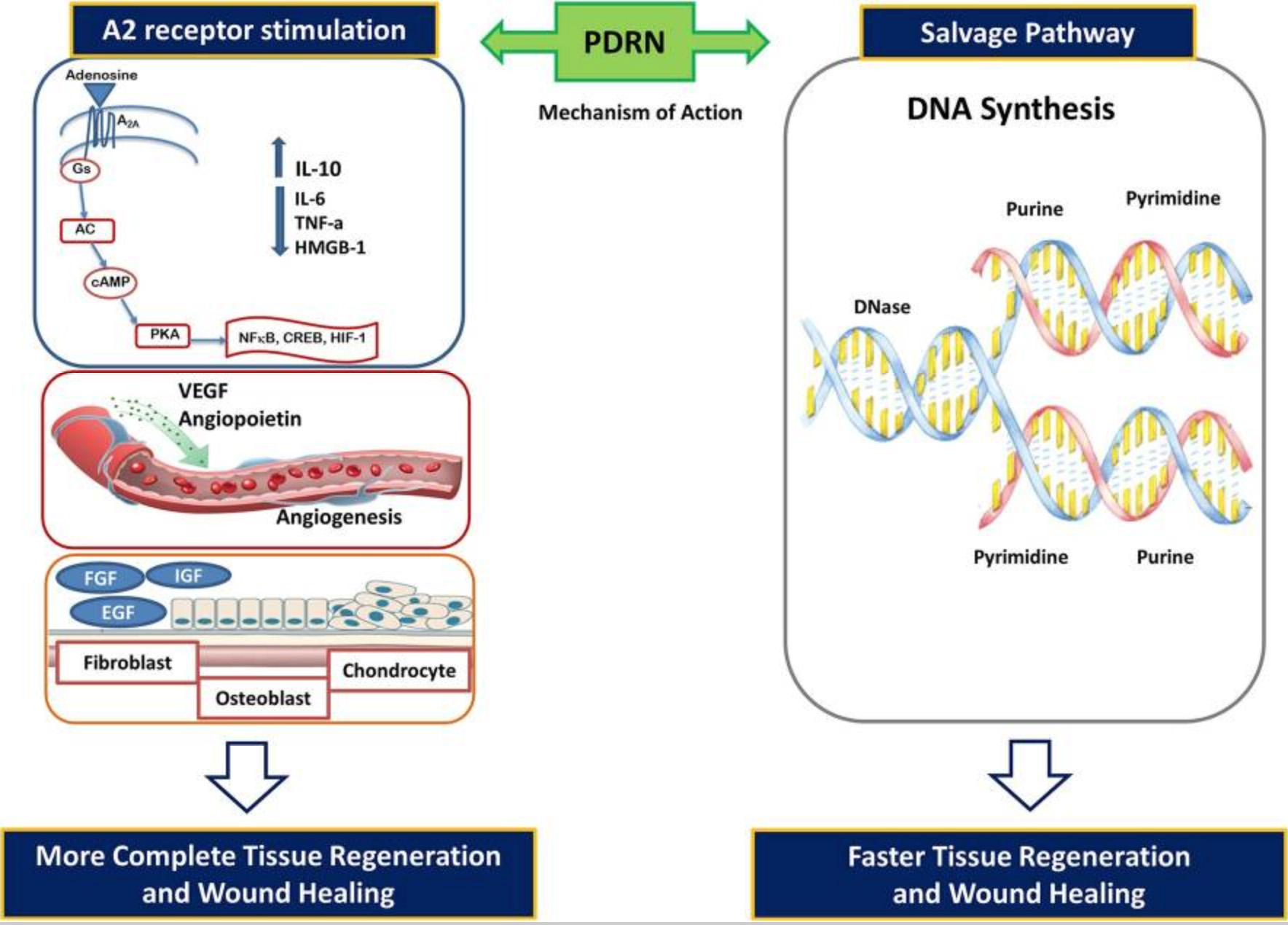 Much research is focused on PDRN. Studies shows that PDRN may be helpful in healing wounds associated with diabetes1, including foot ulcers2. In animal and in-vitro studies PDRN also helps wound healing, prevent scars 3, and even revive dying skin tissue4 . They work by stimulating the Adenosine receptor A2A receptor (A2A agonist)5.
In Particular, Why is Salmon DNA Used for Skin Rejuvenation?
A study was published in March 2010 to investigate the effect of rubbing salmon DNA on human skin6. The results were surprising – just by doing that, subjects showed a significant improvement in skin elasticity, texture and hydration.
Salmon DNA is used in Rejuran as it is very similar to human DNA. Researchers also found that salmon DNA is very safe and compatible in the human body without causing any adverse side effects. The salmon DNA used in Rejuran is purified to be free from other components such as proteins which may trigger an immune response.
What Benefits Does Rejuran Healer Have?
Rejuran PN/PDRN's healing properties have several beneficial effects on the skin, as shown in their funded study7:
Improved skin elasticity
Improved Hydration
Reduced fine lines and wrinkles
Skin repair – with improved skin barrier function
Skin normalization – thickening of skin, regulation of oil production
Improved skin tone
Improved skin texture
The conditions which Rejuran Healer have been shown to treat include:
Dark eye circles
Enlarged pores
Skin sagging
Enlarged pores
Dull skin
Wrinkles and fine lines
Acne scars
Stretch Marks
What Is the Treatment Process for Rejuran Healer?
Topical numbing cream is applied on the skin for 20 minutes. Your doctor then uses a fine needle to administer tiny amounts of Rejuran Healer under the skin. The treatment takes about 10 minutes to complete. In my practice, I also administer healing LED Red or Infrared Light to sooth the skin and reduce redness and swelling.
What Can You Expect After the Treatment? How Often Do I Need to do it?
As Rejuran Healer treatment is essentially a skin healing procedure, it takes up to 4 weeks to see any visible improvements in your skin – this is because about 4 weeks for PDRN to take effect and repair the skin from the inside. The treatment is best done 3 to 4 times, 2 to 4 weeks apart. Best results are seen only after the last session. Afer that, treatments can be repeated once every 6 – 9 months for maintenance.
It is also important to understand that this is not a facial augmentation using dermal fillers, therefore you are unlikely to see any visible results.
To yield the full benefits of Rejuran Healer treatment, Dr. Siew advises that one should undergo a skin healing program of 3 sessions about 4 weeks apart. This is to ensure that the results are long-lasting and sustainable.
Are There Any Side Effects?
There will be visible bumps on the skin lasting a few hours to a day. Some temporary swelling, and bruising can also occur.
Rejuran has been reported to react with cross-linked Hyaluronic Acid (HA) fillers, causing granuloma formation (this shows up as hard nodules). The proposed mechanism is through reaction of the polynucleotides with BDDE – the chemical used for cross linking in most fillers. Hence, you are advised NOT to have Rejuran PN/PDRN if you have had cross-linked HA fillers within a year. Speak to your doctor to find out more about this.
This Looks Very Similar to SkinBoosters. What Is the Difference Between Restylane Skinboosters vs Rejuran Healer?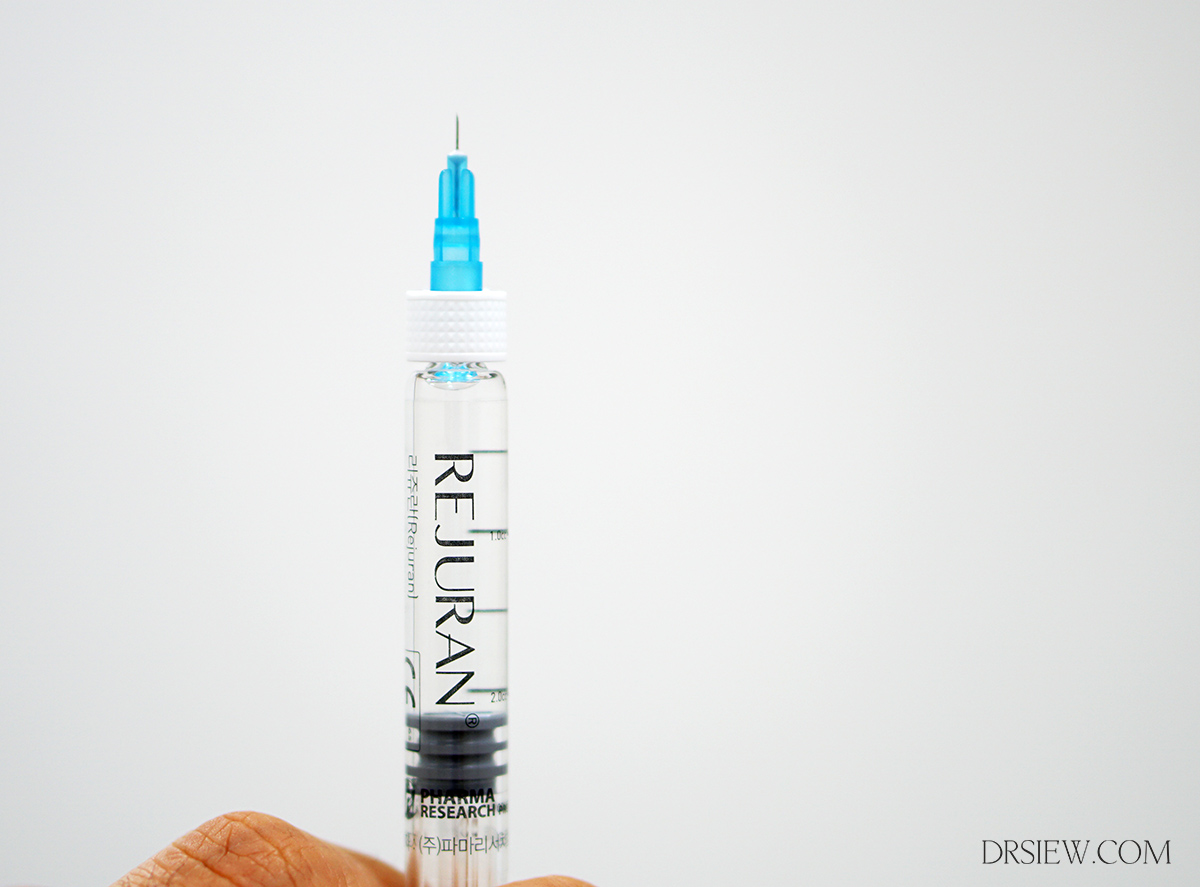 Although both Skinboosters and Rejuran Healer are administered in a rather similar manner, they have different functions and work quite differently.
Restylane SkinBoosters treatment uses hyaluronic acid dermal fillers to provide deep hydration to the dermis. This treatment gives the skin a smoother appearance by plumping up the skin, which leads to reduced appearance of fine lines.
On the other hand, Rejuran Healer treatment takes a more aggressive approach to anti-aging. It actively repairs and heals damaged skin cells and reverses signs of aging to keep the skin young and healthy.
A comparison study shows that Rejuran causes more fibroblast activity, leading to more collagen production, better skin elasticity and more skin thickening.
The table below details the differences between these 2 treatments:
Features
Restylane SkinBoosters
Rejuran PDRN Healer
Type of Treatment
·      Filler treatment
·      Skin healing and wound repair treatment
Contents
·      Stabilized Hyaluaronic Acid (HA)
·      Polyneucleotide (PN) derived from salmon DNA
What It Does
·      Addresses signs of aging

·      HA draws water to the skin to keep it hydrated and plump

·      Prevents moisture loss

·      Reverses aging by repairing skin at cellular level

·      PDRN/ PN repairs damaged dermal cells

·      Restore abnormal, aging cells

Benefits
·      Rehydrate severely dry skin

·      Smoother skin texture

·      Firmer, more elastic skin

·      Luminous, translucent skin

·      Repair severely damaged skin

·      Reduce appearance of pigmentation and scars

·      Accelerate wound healing

·      Regulate oily skin

·      Minimize enlarged pores

Best For People with
·      Severely dry skin

·      Superficial wrinkles and fine lines

·      Severely damaged, aging skin

·      Scars especially acne scars

·      Enlarged pores with oily skin

Recommended Treatment Plan
·      First 3 treatments to be done 4 weeks apart

·      Subsequent treatments can be done every 6 months

·      First 4 treatments to be done 2 – 4 weeks apart

·      Subsequent treatments can be done every 6 months

Side Effects
·      Skin may appear mildly red and swollen immediately after treatment

·      Injection sites may appear lumpy temporarily if injection depth is too shallow

·      May develop temporary rash

·      Skin may appear mildly red and swollen immediately after treatment

·      Not suitable for vegetarians
In conclusion, both Restylane SkinBoosters and Rejuran Healer treatments work in very different ways to address aging and promote skin rejuvenation. Combining both treatments can achieve better anti-aging and skin rejuvenation effects.
Can Rejuran Healer PN/PDRN be Combined With Other Treatments?
Yes, it can. Like all medical aesthetic treatments, Rejuran can be combined with other treatments to work in synergy to address other skin issues. For example, Rejuran can be done together with Silhouette Soft thread lift or PDO thread lifts to treat skin sagging.
A combination which has benefited many of my patients is using Rejuran with non cross-linked HA fillers – to reap the benefits of skin hydration, skin repair and skin refinement, all at one go in a single skin-refining treatment.
Sounds Fantastic! Is Rejuran Miracle Treatment it is Made Out to be?
It is important to note that while PN/PDRN has been shown to be effective in some medical conditions, its use for cosmetic purposes is a fairly recent phenomenon. Most studies done so far are small scale, and more scientific research definitely needs to be done to assess its efficacy and safety.
Already, more research is coming in, with studies proving PN/PDRN's effectiveness for the skin, and even on the scalp for treating hair loss8 – PN/PDRN can be combined LASEMD laser treatment with PDRN, to restore thinning hair.
It is indeed a promising new treatment – allowing doctors to have even more options to rejuvenate damaged skin. It will not replace other treatments such as dermal fillers, lasers and Ultherapy, but will instead work synergistically with them to give you even better anti-aging results!
References:
Polydeoxyribonucleotide (PDRN): a safe approach to induce therapeutic angiogenesis in peripheral artery occlusive disease and in diabetic foot ulcers. Altavilla D et al.

The effect of PDRN, an adenosine receptor A2A agonist, on the healing of chronic diabeticfoot ulcers: results of a clinical trial. Squadrito F et al

Scar Prevention and Enhanced Wound Healing Induced by Polydeoxyribonucleotidein a Rat Incisional Wound-Healing Model. Jeong W et al

Polydeoxyribonucleotiderestores blood flow in an experimental model of ischemic skin flaps. Polito F et al

Pharmacological Activity and Clinical Use of PDRN Francesco Squadrito et al

Effect of DNA from salmon milt on human skin conditions T.-F. Hsu et al

A Phase III, Randomized, Double-Blind, Matched-Pairs, Active-Controlled Clinical Trial and Preclinical Animal Study to Compare the Durability, Efficacy and Safety between Polynucleotide Filler and Hyaluronic Acid Filler in the Correction of Crow's Feet: A New Concept of Regenerative Filler Chang Sik Pak et al

Therapeutic Efficacy of 1,927-nm Fractionated Thulium Laser Energy and Polydeoxyribonucleotide on Pattern Hair Loss Sung Bin Cho et al