SGD $49.90 for 48 ml
L'Oreal Paris has always been a powerhouse in skin care – coming up with good creams at reasonable prices. Their latest offering promises to correct the first signs of aging with results in just 3 days. With a name like Revitalift Laser X3 Serum, complete and a bold red packaging, you simply cannot overlook this product.
The Claims: L'Oreal Revitalift Laser X3 Double Serum
 "L'Oreal says that L'Oreal Paris Revitalift LASER X3 Anti-Aging Double Serum provides dual benefits in one serum:
1. Corrects 1st signs of aging: Fine lines, enlarged pores and skin roughness are reduced.
2. Prevents future signs of aging: By strengthening skin barrier and replenishing lost nutrients.
RESULTS:
DAY 1: Skin is revitalized with moisture. Skin feels softer, smoother and more supple.
DAY 2: Skin feels noticeably firmer and looks more elastic.
DAY 3: Skin texture is resurfaced for visible radiance, luminosity.
WEEK 1: Fine lines and wrinkles appear noticeably smoothed.
Innovative dual chamber system combines 6% Pro-xylane and 2% Vitamin C to create a super concentrated velvety , lightweight formula, leaving skin looking smoother more supple and radiant."
Lets see how these claims hold up…
Packaging/Texture/ Scent:   L'Oreal Revitalift Laser X3 Double Serum 
The serum features a bold red pump bottle with dual chambers. Double Serum comes in a plastic brown pump container, for easy dispensing. With each pump, serums from both chambers are dispensed together. You need to mix them in your palm before applying it onto your face.
The serum is lightweight, and absorbs quickly into the skin. It comes with a mild pleasant scent.
Ingredients/ Efficacy:   L'Oreal Revitalift Laser X3 Double Serum
Pro-Xylane (hydroxypropyl tetrahydropyrantriol), present at 6%, is the star ingredient in L'Oreal's latest offering. Originally developed in 2006 by Lancome, it is a sugar-protein hybrid molecule derived from xylose (a sugar). Xylose has been shown to stimulate glycoaminoglycans (GAGs) in the dermis, to thicken the skin and improve skin elasticity. It acts as a scaffold to allow the skin to hold more water, and for collagen to be better produced.
Whether Pro-Xylane indeed produces the promised effect of thickening the dermis remains to be seen. The studies done are largely in-house, and in-vitro (in the lab rather than on the skin). The science behind it is promising, however, more research is needed to prove that this is indeed an effective anti-aging product. Another similar ingredient, C-Xyloside, seems to have more research backing it.
In addition, the delivery method is another hurdle – the effects of GAG stimulation occurs deep in the skin (dermis) – topical application typically is very poor at penetrating to such depths.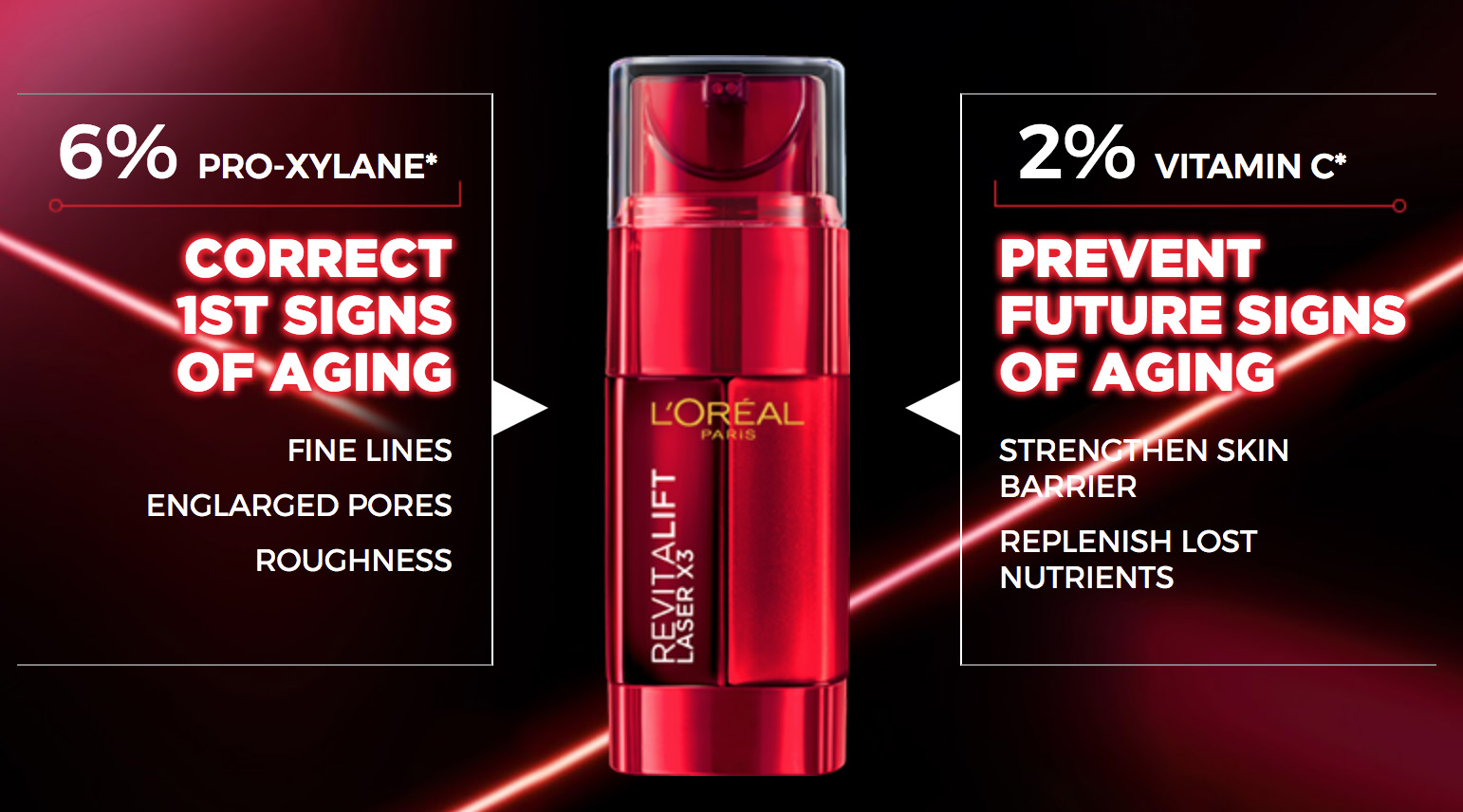 Vitamin C (ascorbyl glucoside), present in 2%, is a known anti-oxidant, anti-inflammatory, and anti-aging ingredient. However, it is present in MOST skin care products, at higher concentrations (10-15% is the optimal concentration). Hence, this is nothing to much to shout about.
Full ingredient list:

Precautions :   L'Oreal Revitalift Laser X3 Double Serum
While largely safe, Vitamin C can cause allergic reactions. Similarly, Pro-Xylane is mostly safe, but there have been reported cases of allergic contact dermatitis.
If you have sensitive skin, try the product on in a small inconspiciuous area such as behind the ear, before using it on the rest of the face. 
Who It Is Good For
 Men and women with normal to oily looking for an affordable serum for skin rejuvenation.
Most suitable age range: 30s
Conclusion :   L'Oreal Revitalift Laser X3 Double Serum
 Unfortunately, sleek marketing and packaging is pretty much all Revitalift Double Serum has going for it. It has some hydrating properties, and may function as an affordable moisturizer, however, there are much better anti-aging alternatives around.
The double pump seems more a marketing gimmick rather than a practical one. Nonetheless, at $49.90, this is an affodable product, with sone science behind it.
Score : L'Oreal Revitalift Laser X3 Double Serum
| | |
| --- | --- |
| Packaging/ Scent/Texture | 4.5/5 |
| Ingredients | 2/5 |
| Price | 4/5 |
| Overall Rating | 3.5/5 |
The views expressed in this article are entirely my own, and should not replace a consultation with your doctor. I am not sponsored by L'Oreal in the review of this product.