Ultherapy revolutionalised non-surgical face lifting when it appeared in 2009. For the first time, there was a non-needle, non-surgical technology which could reach deep into the skin enough, to visibly tighten skin. Today, after 8 years of experience with the procedure, it remains my favourite non-needle skin lifting treatment. Here is everything you need to know, about the Ulthera system and Ultherapy .
What is Ultherapy?
Ultherapy is a non-surgical, non-invasive procedure that uses High Intensity Focused Ultrasound (HIFU) to lift, tone and tighten loose skin. It is the only non-invasive procedure cleared by the US FDA to lift the skin on the brow, neck, chin, and décolletage. It was the original HIFU procedure which gave rise to so many others today.
How Does Ultherapy Work?
Unlike other skin lifting treatments such as thread lifts, fillers and Botox, Ultherapy does not involve injections – it bypasses superficial skin to deliver the right amount of ultrasound energy at controlled depths, at the right temperature.
The Ulthera system delivers little pockets of energy into the skin. Each pocket heats the skin tissue to 60-70°C. This has 2 effects:
Immediate tissue contraction at the same depth of a surgical facelift.
2. Stimulation of new collagen growth. It has been proven scientifically that collagen growth happens when the skin heats up to 60-70°C.
Ultherapy's ultrasound energy activates the skin regenerative process, through tissue contraction, and new collagen production. Over the next few months, gradual tightening occurs, resulting in lifting of the face and tightening of the skin – naturally.
Another unique point of Ultherapy is that it also uses ultrasound imaging to allow us to see the layers of skin tissue we are treating. It is the only cosmetic procedure which uses real-time imaging during treatment. This way, we always know exactly where in the skin we are treating, to ensure the energy is safely delivered to where it will be most beneficial.
What Is the Treatment Process?
First, your face is cleansed. A numbing cream is applied for 20 minutes to reduce the discomfort during the procedure. I sometimes prescribe pain relief medication to further reduce discomfort.
Before the treatment, the treatment areas are marked out on the skin. This ensures my patients receive the correct number of treatment lines, in the right places.
During the treatment, ultrasound gel is applied on your skin to facilitate contact. The applicator is gently placed on your face. The treatment commences by delivering focused ultrasound energy to different layers of the skin.
During the 45-60 minute treatment, we use various transducers to target different layers of the skin. Depending on the areas of the face, we alternate between 1.5mm, 3.0mm and 4.5mm transducers to deliver energy to the dermis, deep dermis, and SMAS (Superficial Muscular Aponeurotic System) respectively.
You will feel deep heat being delivered – this is usually bearable. Some of my patients opt to be sedated during the procedure, which can also be done. With newer, less painful protocols, sedation is usually not necessary. However, sedation allows me to crank up the power to deliver even higher energies, and deliver more treatment lines. In my opinion, the results are often better.
What Results Can You Expect?
The regenerative process begins as soon as the treatment is administered.  so some lifting may be seen right after. However, the full effects of the treatment will take about 3-6 months as it takes time to stimulate the body's natural collagen production.
My patients report lifting and toning of the skin, with better facial contours, visible from 6 weeks post treatment. Ulthera works especially well on the jowls and double chin area. The eyebrows are elevated to produce bigger, youthful eyes. Skin feels more elastic, skin texture feels smoother, and skin color is more even.
The results last for 12 -18 months. Most of my patients have the procedure done once a year.
Why The Need to Have 3 Different Treatment Depths?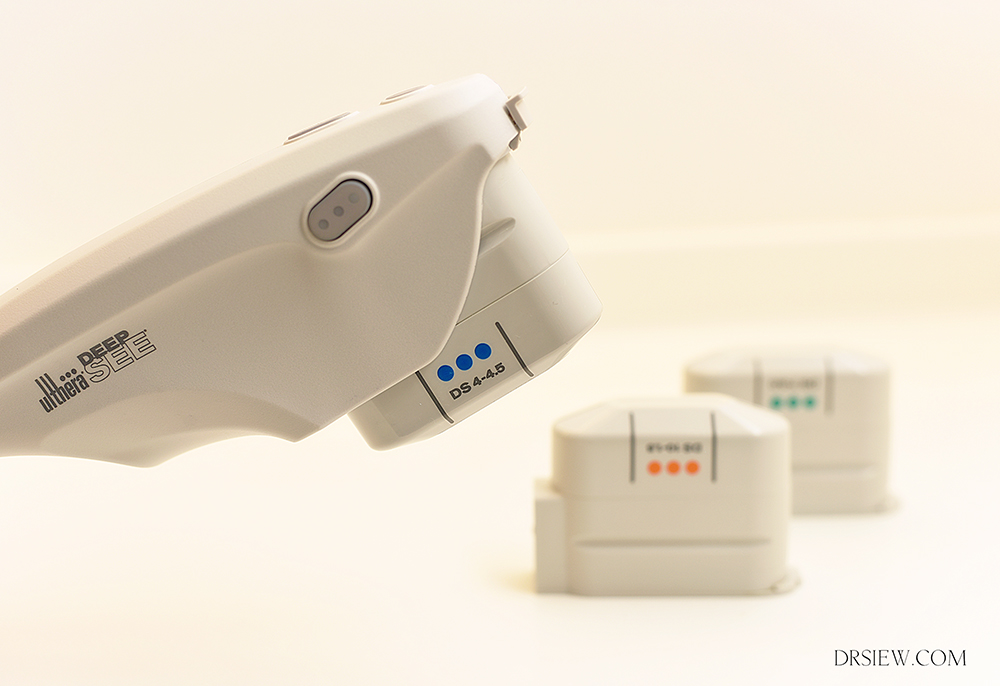 By alternating between the 3 different types of transducers, Ultherapy delivers HIFU energies to 3 different depths in the skin. This allows great versatility – we are able to tailor the treatment to suit each patient. With the different depths, Ultherapy is also able to treat both superficial and deep foundational layers of the skin. Previously this could only be achieved with a surgical facelift.
The 1.5mm transducer is used to treat the dermis, and eliminate fine lines. The 3.0mm transducer is targets fat and connective tissue layer. Finally, the 4.5mm transducer targets the SMAS layer – it reaches the facial muscles. This is the depth that plastic surgeons reach when they perform a surgical facelift.
How Does Ultherapy Differ From Lasers?
Ultherapy reaches much deeper into the skin than lasers. Amongst the non-invasive skin treatments, Ultherapy reaches the deepest – up to 4.5mm. It also reaches deeper than other skin tightening modalities such as Thermage, which uses radiofrequency waves. Unlike resurfacing lasers such as carbon dioxide laser resurfacing, Ulthera does not break the skin surface – hence, there is no redness, and no downtime. There is also minimal risk of pigmentary complications.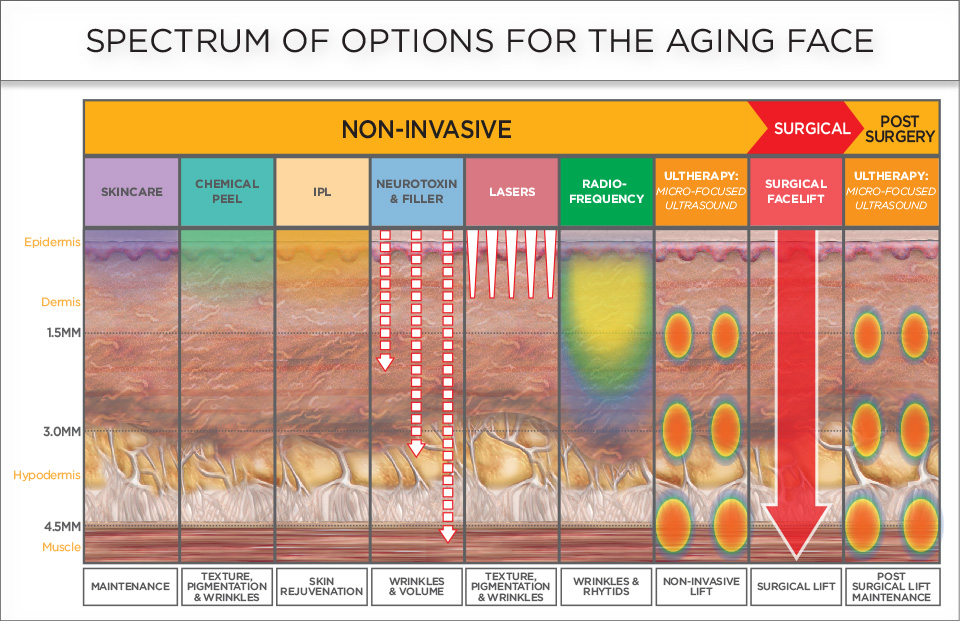 Who Is Suitable for Ultherapy?
While Ultherapy does not replace a surgical facelift, it is a great option for people who are not willing to undergo surgery, or do not want any injections to their faces for skin lifting.
Ultherapy will benefit men or women with mild to moderate skin laxity. Ultherapy is a fantastic age-proofing treatment – when the treatment is started once early signs of ageing occur, it slows down the skin ageing and sagging process, so that we maintain our lifted, youthful contours for as long as possible.
Examples of areas that will benefit from Ultherapy include the eyebrows, loose skin on the neck, double chin, and lines and wrinkles on the chest. I especially love Ulthera for the double chin, lower face and jowls – this is where my patients and I see the most results.
During your consult, your doctor will assess your skin and recommend the areas that are suitable for treatment using Ultherapy.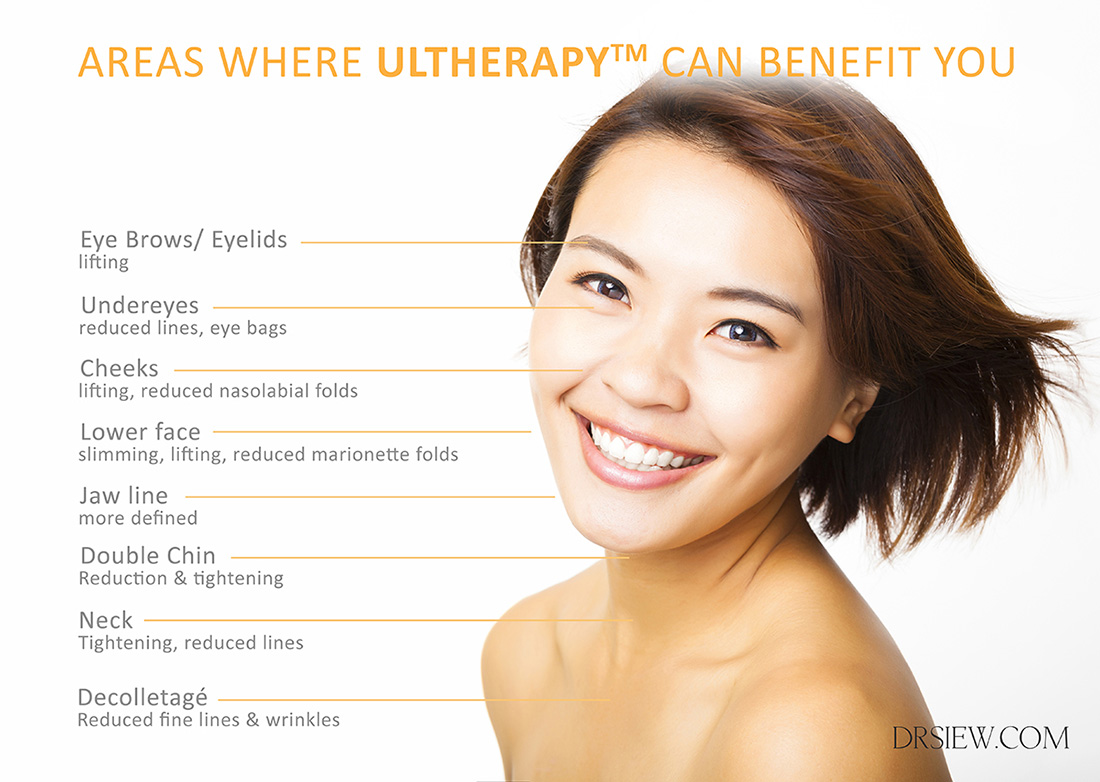 Any Side Effects?
Ultherapy is very safe, and side effects are usually mild and temporary. The skin may appear flushed for a few hours post treatment. You may also experience slight swelling or aching around the bony areas of the face, but these should resolve a few days. If higher energies are used, the swelling may last slightly longer. Burns on the skin can occur, although rare, and these should not happen as long as your doctor takes proper care during the procedure.
My patients often raise concerns they read on the internet about severe complications after Ultherapy – including fat atrophy, and bizarre ones like change in facial features. I have performed hundreds of Ultherapy procedures over almost a decade – with no such horrid side effects. The worst I have had was temporary facial weakness, and facial swelling. The reasons I have think of for these negative experiences, are:
1. All of these reports from the USA, where majority of Ultherapy procedures are done by nurses, and not doctors. It is likely the nurses do not undergo the same level of training as a doctor, and do not appreciate facial anatomy enough to know when to avoid danger.
2. Caucasian skin is thinner, with less fat to begin with. After Ultherapy burns off some of the fat, especially around the eyes, the eyes can look more hollow – and more haggard. Hence, patient selection is very important. Ultherapy may not be he best treatment choice for every patient.
3. The most serious case reporting continue shrinking of the face happened in a patient with existing autoimmume disease, likely scleroderma – and should not have had it done in the first place. Patients with scleroderma already have increased collagen production in the face, causing tightness. Ulthera would only make it worse. We also cannot take the whole account at face value, as there is evidence of body dysmorphic disorder in this case.
What Is the Difference Between HIFU and Ultherapy?
Many new HIFU machines have appeared in the past year. A common question my patients ask is – what is the difference between these HIFU treatments and Ultherapy?
HIFU machines are all modeled after the Ulthera system. Most of them are made in Korea or China. While some of the HIFU machines work well, many – especially those offered in beauty salons, do not, and cannot give the same lifting results as Ultherapy.
Ultherapy has undergone rigorous scientific evaluation, with 50 clinical studies and 40 published peer-reviewed papers. To date, it is the only HIFU system which is FDA cleared for lifting sagging skin. Most of the other HIFU systems, especially the China-made ones, have only scant research, if any, backing them. In some serious cases, there were reports of skin burns after HIFU treatments due to poor temperature control.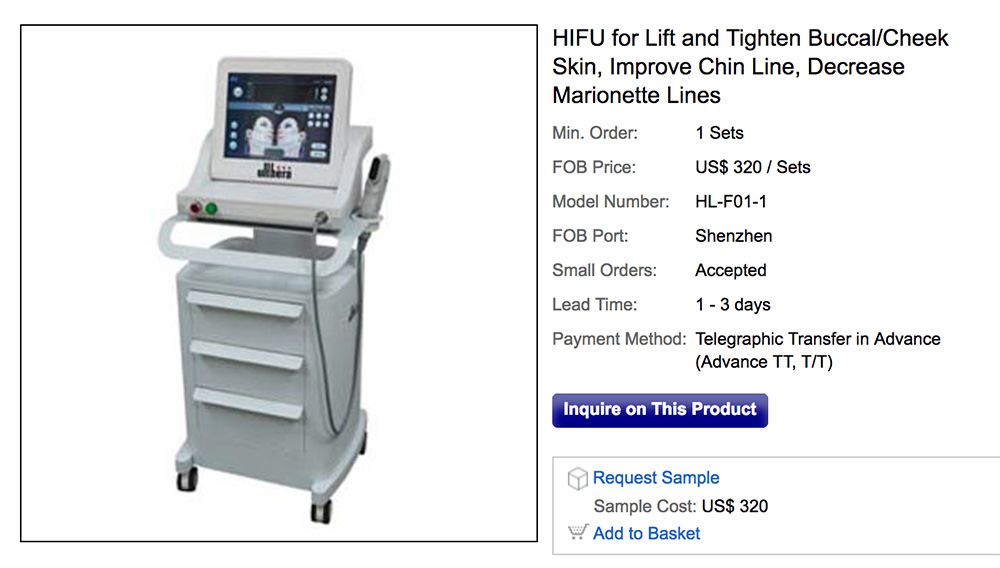 Having said that, there are several Korean HIFU systems in the market which show good promise. However, the price of these treatments are not much lower than Ultherapy – and most of them do not last as long. Hence, in the end, the price works out to be about the same between Ultherapy and HIFU treatments.
One other big drawback about the newer HIFU systems was that I could not find one which comes with the real-time ultrasound imaging which Ultherapy offers. Real-time imaging during Ultherapy is important in my practice for 3 reasons:
1. Real-time ultrasound allows me to know which layer of the skin I am treating – I know that I am delivering into the skin, or SMAS, or whether someone's skin is too thin and I am hitting bone. These areas are to be avoided to minimize discomfort. Ultrasound imaging offers valuable advantages in terms of efficacy and comfort during the procedure.
2. Real-time ultrasound imaging allows me to make sure that there is optimal contact between the probe and the skin, and to make readjustments in position when necessary. Being an ultrasound-based treatment, good contact is crucial for Ultherapy (and all HIFU treatments) to work well. With this invaluable guide, I know that EVERY shot delivered gives maximal lifting.
3. Lastly, real-time ultrasound imaging ensures maximal safety during treatment. Skin in areas like the undereye are very thin – the HIFU energy can hit the eye, and cause ulceration, scarring and even vision loss. This has occurred before. With ultrasound imaging, the surface of the eye can be visualized, and this devastating side effect, avoided.
For these reason, I still decided to stick with Ultherapy as my HIFU lifting treatment of choice. Perhaps, in 2 – 4 years, the newer systems will have a more proven track record and more scientific backing. Then, they may be able rival Ultherapy to some degree – but not now, in 2017.
Ultherapy: My Non-Invasive Lifting Treatment of Choice
In summary, Ultherapy is a skin lifting treating which:
Is FDA-cleared
Is non-invasive, non-needle
Uses High Intensity Focused Ultrasound (HIFU) to tighten and lift skin
Is the mother of all other HIFU procedures
Has no downtime
Takes about an hour to be done
Requires one session, and lasts for a year or more
Shows visible results after one procedure
Uses ultrasound imaging to provide real-time monitoring of treatment process
In my practice, Ultherapy and Thread lifts are the 2 most effective treatments for skin lifting. They work differently, and one may be more suitable in different people, but Ultherapy is ideal for people who do not wish to have a treatment involving needles.
It has become indispensable in my daily practice. However, Ultherapy, and all HIFU treatments, is a medical grade procedure – and it should only be performed by a doctor, who has had ample experience with it. Have a conversation with your doctor, to find out more about this anti-ageing, skin lifting & tightening treatment.