Infini changed the way we treat acne scars when it was approved by the US FDA in 2013. It offered an entirely new way to treat this common, disfiguring condition. In a few years, it has become one of the gold standards to treat acne scars, along with carbon dioxide (CO2) fractional laser resurfacing.
Why do acne scars form?
According to statistics, more than 60 million people suffer from some form of acne in U.S.A alone. This includes all grades of acne, from mild, to severe conditions such as cysts. Acne is such as common condition that more than 85% of the population has experienced acne at some point in their lives. If acne is not well managed, it may infect the deeper layers of the skin, causing further inflammation and damage of the skin. When the acne finally goes away, scars are formed as new tissue grows to replace the damaged skin. Insufficient production of tissue and collagen result in atrophic scarring i.e. depressed acne scars.
The deep layers of the skin do not undergo cellular renewal. Only the superficial layers of the skin (the epidermis) get replaced every 4 weeks. This means that leaving your skin alone or applying scar removal creams will not reduce the appearance of the acne scars. In fact, depressed acne scars tend to become worse as we age and lose collagen in the dermis.
Types of acne scars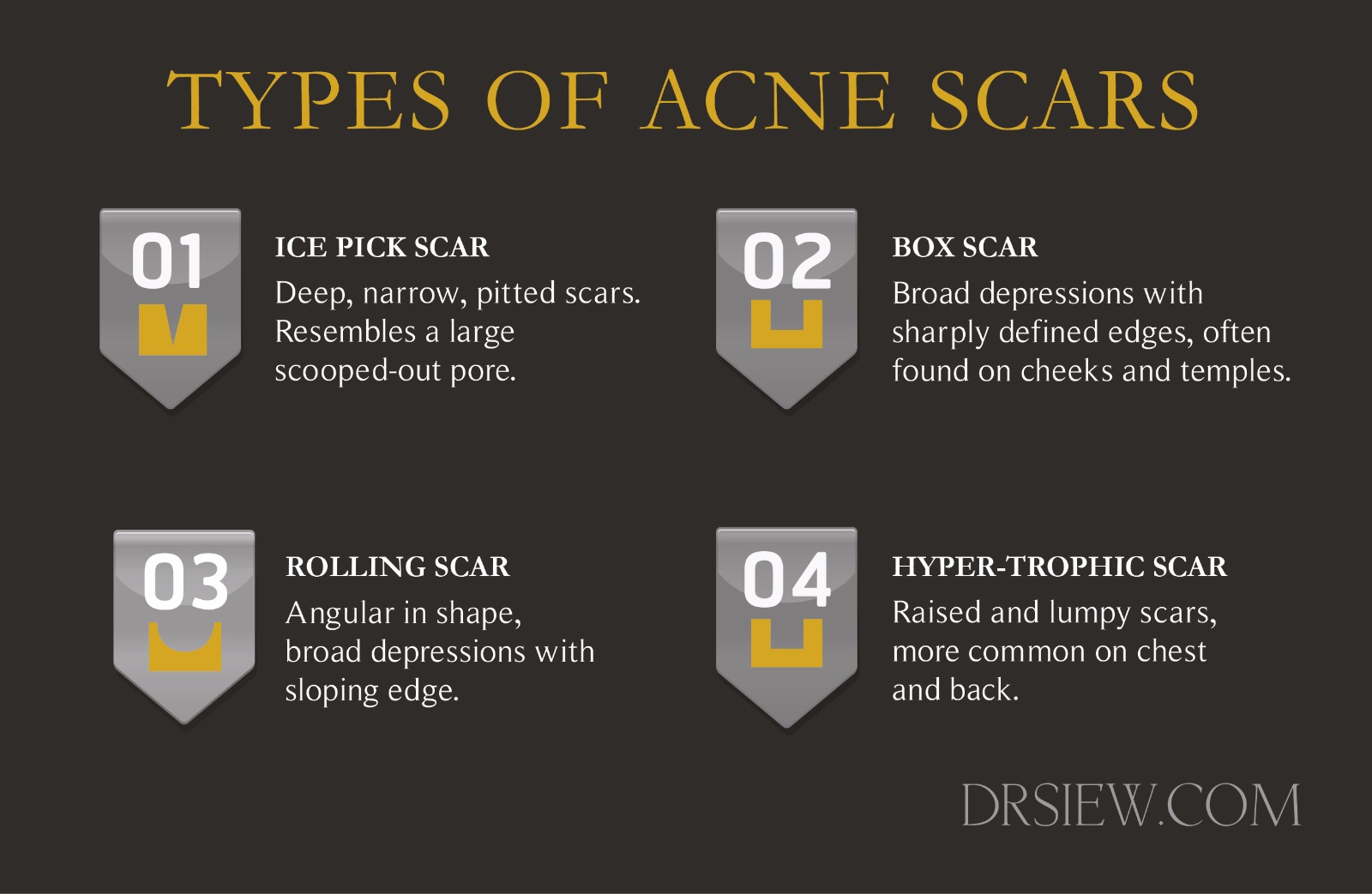 Acne scars can be largely categorised as ice pick, rolling, and boxcar scars. They are named based on their appearance.
Ice pick scars are very deep acne scars that form deep pits or puncture marks on the skin. Boxcar scars also form a depression in the skin that have well-defined indentation with sharp edges. Rolling scars have little peaks and valleys that take on the appearance of cottage cheese.
Treatment for superficial acne scars
Some age-old procedures for treating acne scars include dermabrasion and chemical peels. Although these treatments can mildly improve superficial scarring, they do not work well on deeper scars as they do not penetrate so deep into the skin.
When fractional laser resurfacing treatments (Fraxel, 2006), followed by CO2 fractional laser resurfacing (e.g Lutronic eCo) first appeared, they revolutionized how we view and treat acne scars. For the first time, acne scars could be treated effectively, and safely. Fractional lasers use targeted high-energy lights to reach the affected area, penetrating deeper and with more precision.
After a few years of experience, however, we began to realize that fractional lasers too had their limitations. There was still significant recovery time of 5-7 days, associated with visible crusting and browning which many cannot tolerate. An even bigger challenge is the danger of hyperpigmentation, a complication which can can occur when using CO2 fractional lasers to treat people with darker complexions.
Latest scar treatment: Infini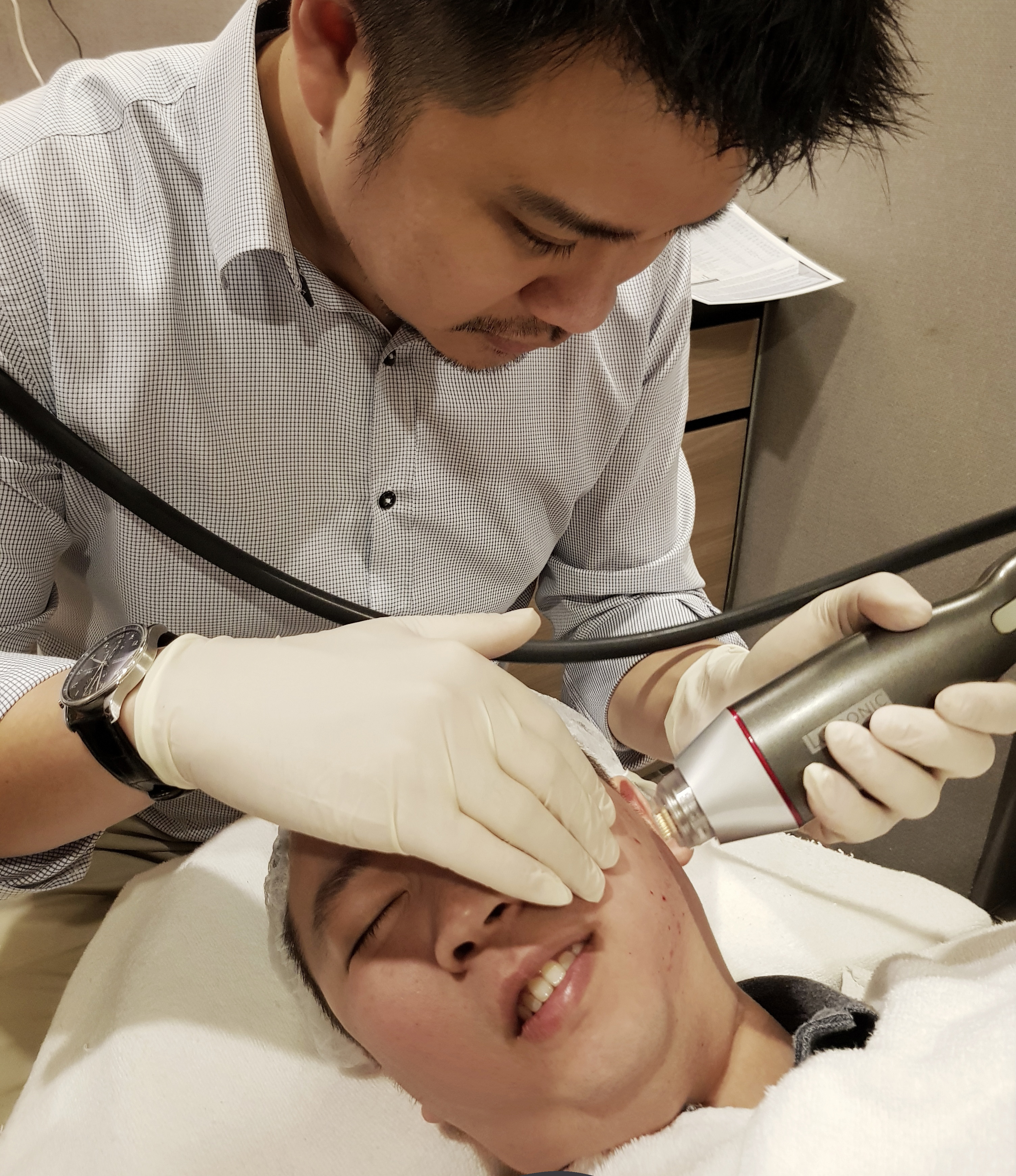 The problems with fractional lasers prompted researchers to come up with a different approach to treat acne scars – this search gave rise to the birth of Radiofrequency micro-needling treatments, the first of them being Infini, by Lutronic. It was a new era in acne scar treatment, and even addressed a wide range of other skin disorders such as sagging skin and wrinkles.
How does Infini work?
Infini combines 2 already familiar cosmetic skin technologies – radiofrequency and micro-needling. The treatment is designed to precisely deliver radiofrequency into the scar tissue deep in the dermis, where it contains collagen and collagen-producing skin cells.
During the procedure, fractional radiofrequency energy is delivered through 49 gold-coated insulated micro-needles, delivering up to 100,000 thermal coagulation points in one session, between a depth of 0.5mm and 3.5mm. The energy transmission to the damaged dermis results in collagen remodeling and improvement of the scar tissue.
Benefits of Infini Scar Treatment
1) Safer on Darker Skin Types
One of the biggest advantages of Infini scar removal treatment is that it is suitable for skin types regardless of ethnicity. The risk of post-inflammatory hyperpigmentation (where the skin becomes darker after lasers) is also significantly lower compared to CO2 lasers. For the first time, we can effectively treat acne scars in darker skin types such as Indian skin.
2) Less Down Time
Infini scar treatment allows the doctor to set multiple needle depths per pass, delivering tiny amounts of radiofrequency waves into the specific layers of the dermis. The insulated needles prevent any damage to the surrounding skin except for the areas exposed to the tip of the micro-needles. This means that the radiofrequency waves are localized, translating to significantly shorter downtime as compared to other acne scar treatments – a typical Infini treatment produces 3-5 days of redness, without crusting. This is much more tolerable compared to CO2.
3) Better Improvement in Difficult-to-Treat Acne Scars
Because Infini can reach so much deeper than lasers (up to 3.5mm compared to Fraxel – 1.5mm and CO2 Fractional 0.8mm), it treats deep ice pick scars much better. The punching action of the micro-needles also break tough abnormal collagen in rolling acne scars known as fibrosis. As a result, rolling acne scars are treated better by Infini as well.
Side Effects and Downtime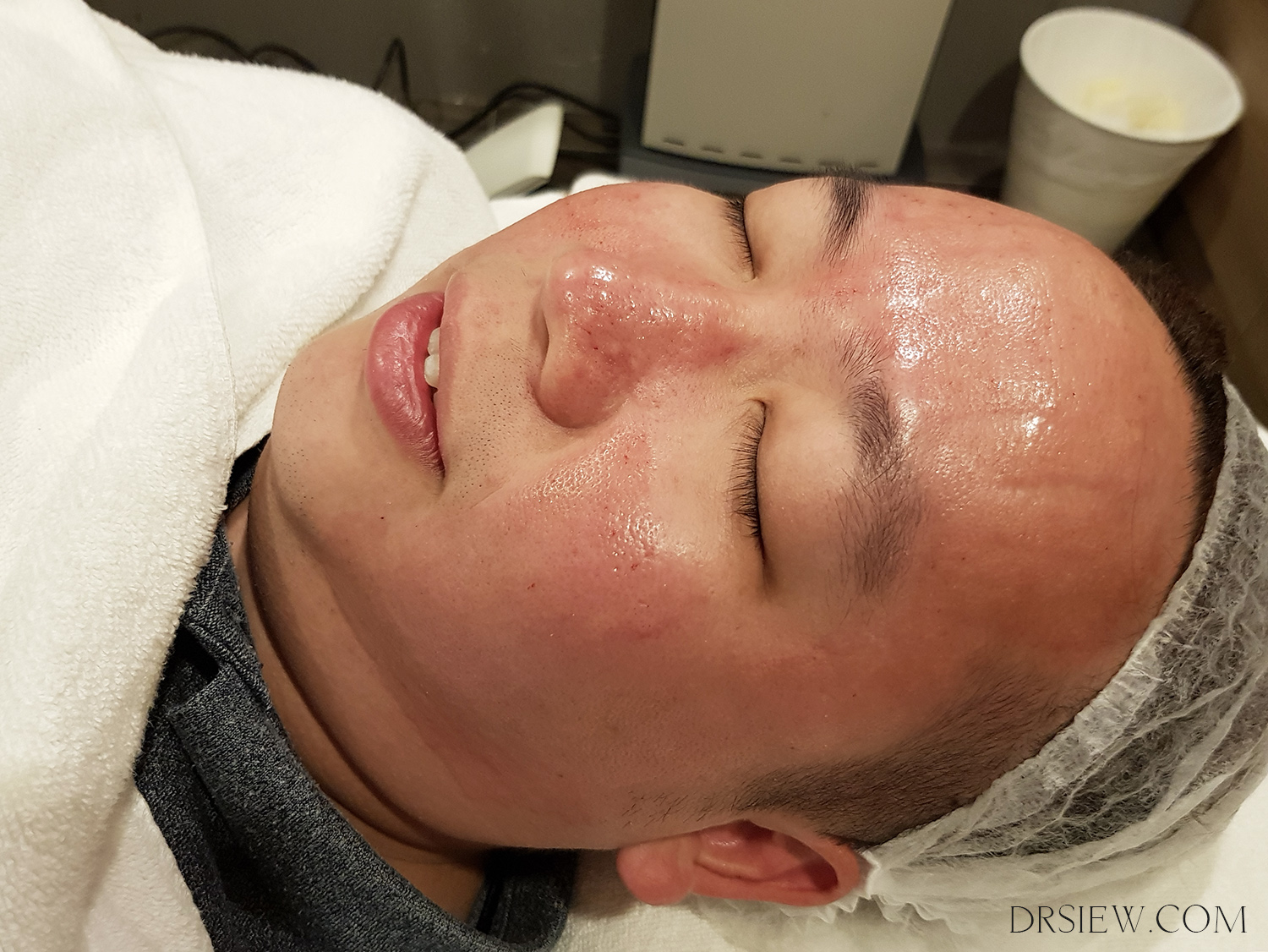 Infini Radiofrequency Microneedling is a medical procedure, and although safe, come with possible side effects. Side effects are generally mild in nature because the superficial layer of the skin is not burned off. Depending on the power used, you can experience redness and swelling in the skin for 2-5 days.
The procedure involves microneedles, and hence infection can occur if not performed correctly. The doctor needs to to make sure the skin is properly cleaned, and maintain good sterile techniques during the procedure.
Finally, an acne outbreak of varying severity can occur after treatment, due to stimulation of the sebaceous glands in the skin. I find that this can be controlled with creams and oral antibiotics.
Infini – More than Just Treatment of Scars
Although Infini is known for improving acne scars, it is able to treat a wide range of other skin disorders such as skin laxity and wrinkles. Deep heating of the dermis causes collagen stimulation the same way other skin tightening treatments like Ulthera and Thermage do. Skin texture problems such as fine lines, wrinkles and pores are improved. At the same time, sagging facial contours such as upper eyelid drooping, jowls, and nasolabial folds are also improved.
A more surprisingly condition which I see improve in my patients is mottling hypopigmentation. Patients who have undergone too much laser toning treatments often develop an unsightly, irreversible marbled appearance in the skin. This is often very difficult to treat. I found Infini to improve mottling hypopigmentation as well.
Combination Treatment for Effective Acne Scar Treatment
Acne scars are different in every person, and require a comprehensive, tailored approach to treat. In the past, fractional lasers such as the CO2 laser was the mainstay of treatment, but I am very happy that now, with the Infini Radiofrequency Miconeedling treatment, I have everything I need to treat a variety of acne scars in almost every patient I meet.
Inifni is a great treatment. It does not replace, but adds to the tools against acne scars available in my clinic. I also use other treatments such as subcision, TCA Cross, Rejuran, Rstylane Skinboosters and CO2 fractional laser resurfacing to this common but disfiguring condition.