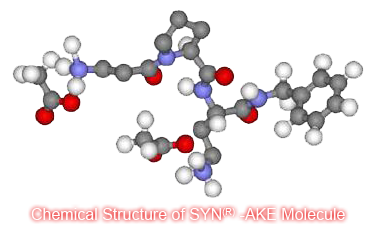 I wrote about peptides in skincare creams for anti-aging – what they are, how they work and what to look out for when considering a peptide product.
Choosing a peptide cream can be a nightmare with so many such creams in the market. The strange way these peptides are named do not make your task any easier either. To make things worse, the names of peptides frequently change, creating more confusion.
New peptides are constantly emerging in the skincare arena, making a comprehensive list difficult. Here, I attempt to list and describe some of the more popular anti-aging peptides which you may come across when browsing for beauty products.
Peptides have a chemical name, such as Pamitoyl Oligopeptide, and a trade name, such as Matrixyl. Either its chemical or trade name may be used in the ingredient list of a product.
Acetyl Glutamyl Octapeptide-3 
(Formerly Acetyl Glutamyl Heptapeptide-3)
Trade name: SNAP-8.
SNAP-8 is an elongation of the famous neuropeptide, Argireline (see below). SNAP-8 reduces the depth of wrinkles on the face caused by the contraction of muscles of facial expression, especially in the forehead and around the eyes. SNAP-8 seems to have equal anti-wrinkle properties compared to Argireline: in a 2001 study which compares Argireline, SNAP-8, and Placebo, on forehead wrinkles, SNAP-8 performed fairly better, achieving wrinkle depth reduction of 35% which Argireline achieved about 28%. However, Argireline has been shown to perform better than SNAP-8 in other areas besides the forehead.
It is most commonly found as an active ingredient in eye serums and anti-wrinkle creams that focus on the wrinkles and fine lines on the forehead.
Find it in: Peter Thomas Roth UnWrinkle Eye,
Acetyl Hexapeptide-8 
(formerly Acetyl Hexapeptide-3)
Trade name: Argireline
Argireline blocks transmission of nerve signals which cause facial muscles to contract. Like SNAP-8, it relaxes your facial muscles, preventing fine lines and wrinkles from forming along the line of expression.
Find it in: Epicuren Ultima Peptide
Acetyl Tetrapeptide-9
Trade name: Dermican
Dermican is clinically shown to stimulate collagen I and the synthesis of Lumican, a proteoglycan (which decrease with age). Lumican is involved in the organisation of collagen fibres. Hence, Dermican firms the skin and combats skin aging.
Find it in: Celazome No.45 Peptide Complex
Acetyl Tetrapeptide-11 
Trade name: Syniorage 
Clinically shown to stimulate synthesis of proteoglycans which help wth epidermal cohesion, and Collagen XVII. Demonstrated benefits include increased skin firmness and resistance and increased skin radiance.
Find it in: Euoko Y-42 Fractional Neck Lift Concentrate.
Arginine/Lysine Polypeptide
A peptide that acts as a sugar trap, binding free sugar that would react with proteins to form Advanced Glycation End-products (AGEs). AGEs accelarate skin ageing.
Find it in: Dermalogica Age Smart Dynamic Skin Recovery SPF 30
Dipeptide-2
Dipeptide-2 helps improve lymphatic circulation and detoxifies skin. Of note, it improves drainage of under-eye bags, and hence is used primarily in eye creams.
Find it in: StriVectin-SD Eye Concentrate for Wrinkles, Hylexin

Copper Tri-peptide
Copper has been used for years to treat chronic wounds, as research has shown that it is an effective agent in skin healing. It clears away damaged cells, rebuilds the skin's circulatory system, activates the skin's primary antioxidant protein and stimulates the production of new collagen. However, the cationic copper has problems penetrating the skin. Interestingly, when attached to a peptide, copper can be delivered more effectively deep into the dermis. Copper Tri-peptide is a copper bound to a peptide for better skin delivery.
Find it in: iS Clinical Super Serum