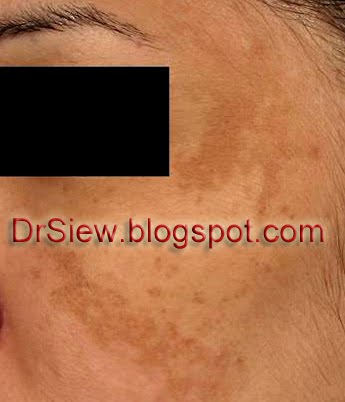 A woman with melasma, undergoing combination treatments
Melasma is a very common skin condition, with patches of brown to greyish discolourations on the skin, most commonly the cheeks, forehead, and nose. Although the problem is solely cosmetic, it can cause considerable psychological distress, more so if the
pigmentation
is severe.
Melasma mostly affects women. Men can get the condition but it is not common. It frequently appears during pregnancy, and hence has been called 'The Mask of Pregnancy'. Women of Fitzpatrick skin types III and IV (i.e. light brown skin) individuals, such as Asians and Latin Americans are more commonly affected.
It is estimated that 45 – 50 million people all over the world suffer from Melasma, of which over 90% are women.


What Causes it?
The exact cause is unknown, but sun exposure, genes, and hormones are the biggest factors.
Sun exposure is considered the biggest cause of melasma, especially in women who are genetically prone to the condition.
Pregnancy is the other big culprit. During pregnancy, levels of estrogen, progesterone and melanocyte stimulating hormone (MSH) in the blood rise, which may trigger melasma. Similarly, women on oral contraceptive pills or hormone replacement therapy may also develop melasma.


Is it Permanent?
Melasma developing during pregnancy may or may not fade by itself after delivery. It may take months, or even years, for the the pigmentation to fade. And in many cases, the melasma is a life long problem which requires constant sun avoidance and treat to keep at bay.


How do you Treat Melasma?
Topical creams are very useful. Many whitening creams are available on the market. Look out for active ingredients such as
Retinoic Acid
, Hydroquinone, Arbutin, Azelaic Acid, Kojic Acid, Alpha Hydroxy Acids, which all can help lighten melasma.
Chemical Peels and Microdermabrasion are also effective. These remove the pigmented top layers of the skin.
Although many experts are divided on using lasers to treat melasma, I personally find them very effective. Gentle treatments with a Q-switched Nd-Yag
pigment laser
will lighten melasma if done correctly. Fractional Laser Resurfacing has also been shown to effectively improve melasma –
Thullium Laser
 is a treatment specially designed to treat this pigmentory condition.  
IPL
is another light therapy which can be considered.
Melasma is notoriously difficult to treat. Hence, I always use combination therapies, often topical creams,
chemical peels
, and lasers, to speed up the treatment process. The key is to be gentle, and patient when dealing with melasma.
Sun avoidance is extremel
y important. Always use a broad spectrum sunblock with SPF 30 and above. Failure to avoid the sun will render all treatments useless.
A Problem Close to my Heart
I paid for years of reckless
sun-tanning
dearly: by being the unlucky few men to develop Melasma. It made me ver
y self conscious when I was younger; patients used to ask me how I can help them when I was in such a state myself!
I have battled with it for years and years, managing to keep it under control with constant sun avoidance, topical creams and laser treatments. Even with treatment, all it takes is an hour of gardening to undo weeks of treatment.
Despite difficulties, melasma
can be treated, but it requires commitment and hard work. It is going to be a long haul, so find a doctor who you can trust, and work hand in hand with him/her. Whether treatment is successful will depend on you as much as your doctor.
Me in my younger days, with a large patch of melasma on my left cheek