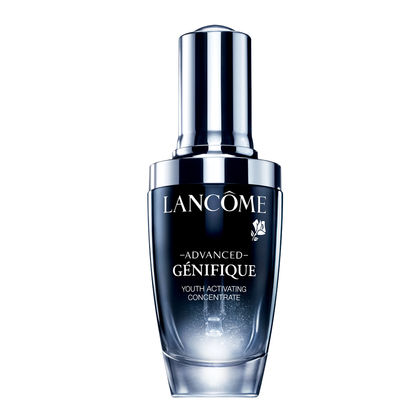 30ml for S$130
50ml for S$170
75ml for S$210
Lancome's high end anti-aging range is no stranger to the world of cosmetic creams. The elegant, purple coloured dropper bottle is almost instantly recognizable – not to mention the origin or many copycat cosmetic ranges!
The Claims: Lancome Advanced Genefique Youth Activating Concentrate
"A powerful youth-activating serum that reveals youthful radiance and smoother skin in as little as seven days. "
According to Lancome, the serum is improves aging and signs of aging, and even gives visible improvements in fine lines and wrinkles, dark eye circles and eye bags.
Lancome claims that the main ingredient – Bifida Ferment Lysate can repair DNA, improve skin's barrier function and hydration, and help maintain and support skin repair. This biotechnology-derived ingredient is so miraculous that it addresses 10 issues including skin texture, resiliency, elasticity, firmness, sagginess, fine lines, wrinkles, radiance, clarity, and skin tone.
These are HUGE claims indeed!
Packaging/Texture/ Scent: Lancome Advanced Genefique Youth Activating Concentrate
It is difficult to fault this beautifully packaged product. Advanced Genefique is bottled in a dark purple glass container with a self-loading dropper. The texture of the serum is translucent and watery. It has a very mild fragrance and it is easily absorbed into the skin because of its oil-free and lightweight texture.
Ingredients/ Efficacy: Lancome Advanced Genefique Youth Activating Concentrate
The star product in Lancome Advanced Genefique is the Bifida Ferment Lysate, touted to be a miracle ingredient which can do everything and anything from repairing DNA, to hydration. (If you stare hard enough, I'm sure it may even cure cancer.. then do the dishes…)
Bifida Ferment Lysate is actually a probiotic – derived from sugars. Advanced Genifique i is not the only product which features it, many other brands have joined the probiotic march. Examples include Estée Lauder Advanced Night Repair and Missha Night Repair Science Activator.
Scientific research on probiotics in skincare is still not conclusive. One study shows that Bifida Ferment Lysate improves skin barrier function and hence improves sensitive skin. Probiotics have also been known for their anti-bacterial and mild peeling effects, and hence have been used frequently for treating acne. There is no evidence that probiotics have anti-aging effects.
The thing is, probiotics is NOT new. We have been drinking Yakult all our lives, which contain lactobacillus, a probiotic. Once again, companies have paid millions in advertising dollars to make it sound more sexy, and of course, jack up the price. Whatever it is, Bifida Ferment Lysate is certainly not the miracle elixir of youth Lancome makes it out to be.
Full Ingredient List:
Water, Bifida Ferment Lysate, Glycerin, Alcohol Denat., Dimethicone, Hydroxyethylpiperazine Ethane Sulfonic Acid, Ascorbyl Glucoside, Sodium Hyaluronate, Sodium Hydroxide, Sodium Benzoate, Phenoxyethanol, Adenosine, Faex Extract/Yeast Extract/Extrait De Levure, Peg-20 Methyl Glucose Sesquistearate, Peg-60 Hydrogenated Castor Oil, Salicyloyl Phytosphingosine, Ammonium Polyacryldimethyltauramide/ Ammonium Polyacryloyldimethyl Taurate, Limonene, Xanthan Gum, Caprylyl Glycol, Disodium Edta, Octyldodecanol, Citronellol, Fragrance.
Precautions: Lancome Advanced Genefique Youth Activating Concentrate
Alcohol is high up in the ingredient list – so if you have sensitive skin, please be careful as Lacome Advanced Genifique can dry out your skin and cause sensitivity.
Who It Is Good For
People with oily skin/ acne prone skin, who want a moisturizing serum (there is a lot of glycerin in this product which helps to moisturise) with a pleasant texture and scent. If you are looking for an anti-aging product, it is better to invest your money elsewhere.
Then again, if you are looking for an anti-acne product, you should be looking at active ingredients which are better at combating acne too.
Most suitable age range: 20s – 30s
Conclusion: Lancome Advanced Genefique Youth Activating Concentrate
Sad to say, it is another disappointing product, with larger than life claims which are probably too good to be true. It might be better to invest your money more sensibly by using products that have antioxidants like vitamins A and E. Alternatively, you can visit your doctor for advice on how to reduce saggy skin and to slow down signs of aging.
Packaging/ Scent/ Texture  :          4/5
Ingredients                        :          1.5/5
Price                                 :           1/5
Overall Rating                  :          2.2/5
The views expressed in this article are entirely my own, and should not replace a consultation with your doctor. I am not sponsored by Lancome in the review of this product.