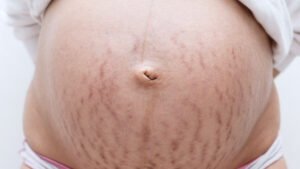 We have all seen stretch marks, and many of us suffer from them. It affects more than half of pregnant women. There are so many creams and treatments out there which claim to treat them, but which work, and which do not?
What Causes Stretch Marks?
Stretch marks, or Striae Distensae, at a common side-effect that happen when the skin is stretched too quickly.
It can occur when there is rapid weight gain, rapid muscle gain in bodybuilders, after breast augmentation, or when the skin becomes too thin with chronic steroid use. Some medical conditions affect the skin's integrity and cause stretch marks. These include Marfan's syndrome and Cushing's syndrome. However, pregnancy is by far the most common cause of stretch marks. It is estimated that 50 to 90% of pregnant women develop stretch marks (1).
While not medically dangerous, they can be disfiguring and cause emotional and psychological distress(2). That is why so many women seek treatment for stretch marks.
Who are More Prone to Stretch Marks?
Stretch marks are more common in females than males. There is some genetic predisposition – if your mother has them, you too have a higher chance of developing them. During pregnancy, younger women surprisingly tend to suffer from stretch marks more than older women. In addition they are more common pregnant women who are heavier to begin with, and women with large weight gain during pregnancy(3,4) .
Evolution of Stretch Marks
There is a characteristic way in which stretch marks appear and evolve. They typically first appear red – known as Striae Rubrae. During this stage they can appear edematous, making them bulge out. Eventually stretch marks turn white. White stretchmarks, also known as Striae Alba, are depressed atrophic scars with a wrinkly surface. (1)
Prevention of Stretch Marks During Pregnancy
Most women will choose to use topical products to prevent stretch marks during pregnancy, but did you know that most commercial products actually do not have proven efficacy in clinical studies (6)?
For example, the highly popular StriVectin-SD cream claims to prevent and treat stretch marks by increasing collagen synthesis, but the company has not have published evidence on its efficacy on stretch marks (7) . There are a few topicals which are useful. Tretinoin at a dose of 0.025 – 0.1% was found to successfully treat red stretch marks. (8,9). But remember that tretinoin cannot be used in pregnancy and should only be used after you stop breastfeeding. An interesting commercial product is Bio Oil, which was shown to improve the appearance of stretch marks in the company's studies (10,11)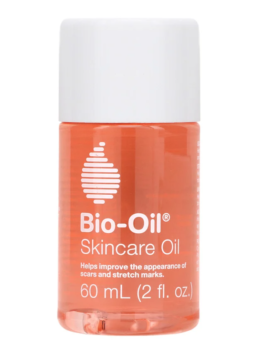 Of the various natural moisturisers, studies show that cocoa butter (12) and olive oil (13) did not help stretch marks compared to placebo. However almond oil seems to work! In a study (14), it was found that a daily 15-minute massage with almond oil during pregnancy reduced the development of stretch marks, and this should be done from early in pregnancy.
Hence, applying creams to prevent stretch marks is not enough. Daily massage, especially with almond oil, is a good choice. Other methods include staying hydrated, eating a healthy diet rich in vitamins C, D E, protein and zinc, and maintaining a healthy weight during pregnancy, with emphasis to prevent excessive weight gain.
While you sometimes cannot control whether will develop stretch marks during pregnancy, there is one thing you can control — always treat stretch marks early, because they respond to treatment better when they are red and new (Striae Rubrae).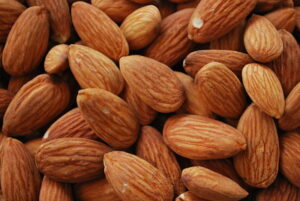 Stretch Mark Treatments
Because stretch marks are so difficult to treat, doctors have used many different ways to try to improve the condition, with varying success.
Stretch marks treatment target dermal collagen production, vascularity (in striae rubrae), wrinkling, and roughness of skin. (5) Remember, they are always easier to treat when they are new and red.
Lasers are often used (15). We need a strong laser which will induce significant collagen synthesis to treat stretch marks. Various fractional lasers have been used, such as the Erbium Glass, Erbium Yag and the carbon dioxide (C02) fractional resurfacing . My favourite is still the CO2 laser, as I have consistent results with this treatment. This laser creates micro-ablative Columns (MACs), allowing new skin and collagen to grow.
For new, red, stretch marks, a vascular laser like the dual yellow laser is a good choice. One problem with the C02 laser is downtime. Expect 10-14 days of skin redness and crusting. In Asian skin, there is also a fairly high chance of a side effect known as post-inflammatory hyperpigmentation (PIH), which takes 3-6 months to resolve with creams. also use other collagen stimulating lasers like Picosure Focus.
All forms of radiofrequency have been used for stretch marks, also some degree of success. I'm refer
ring to treatments like Tempsure, Tripolar radio-frequency (16) , and Infini combined with platelet rich plasma the results that even better. (17) PRP is not allowed in singapore.
Another way to treat stretch marks is by the use of injectable collagen stimulators. This is a newer treatment approach. So far the collagen stimulator Radiesse has been used successfully. (18). Doctors are also exploring other injectable treatments like Rejuran and Profhilo. But more scientific studies still need to be done. Because stretchmarks are so difficult to treat, I prefer to use a combination of lasers, topicals and collegen simulators in my practice.
­­
They usually first appear red then slowly turn white. The bad news is that many of the preventive measures are often not helpful. 2 proven treatment for stretch marks are radio-frequency devices, and lasers. In my practice I often use a combination of the carbon dioxide fractional resurfacing laser, topicals and collagen stimulators for older, white stretch marks, and the double yellow laser for newer, red stretch marks.
Please try to treat them early when you develop them, because they are easier to treat when they are still new. You will require fewer treatments and better faster results.
---
References:
Wollina U, Goldman A. Management of stretch marks (with a focus on striae rubrae). J Cutan Aesthet Surg 2017;10:124-9
Yamaguchi K, Suganuma N, Ohashi K. Quality of life evaluation in Japanese pregnant women with striae gravidarum: a cross-sectional study. BMC Res Notes 2012; 5:450
Oakley AM, Patel BC. Stretch Marks (Striae) [Updated 2020 Aug 10]. In: StatPearls [Internet]. Treasure Island (FL): StatPearls Publishing; 2020 Jan-. Available from: https://www.ncbi.nlm.nih.gov/books/NBK436005/
Korgavkar K, Wang F. Stretch marks during pregnancy: a review of topical prevention. Br J Dermatol. 2015;172(3):606-615. doi:10.1111/bjd.13426
Hague A, Bayat A. Therapeutic targets in the management of striae distensae: A systematic review. J Am Acad Dermatol 2017;77:559-568.e18.
Thomas RGR, Liston WA. Clinical associations of striae gravidarum. J Obstet Gynaecol 2004; 24: 270–271.
Ud-Din S, McGeorge D, Bayat A. Topical management of striae distensae (stretch marks): prevention and therapy of striae rubrae and albae. J Eur Acad Dermatol Venereol. 2016;30(2):211-222. doi:10.1111/jdv.13223
Rangel O, Arias I, Garcia E, Lopez‐Padilla S. Topical tretinoin 0.1% for pregnancy‐related abdominal striae: an open‐label, multicenter, prospective study. Adv Ther 2001; 18: 181–186.
Pribanich S, Simpson FG, Held B et al Low‐dose tretinoin does not improve striae distensae: a double‐blind, placebo‐controlled study. Cutis 1994; 54: 121–124.
Bio‐Oil . Photobiology Laboratory of the Medical University of South Africa. [WWW document] 2005
Bio‐Oil . proDERM institute for applied dermatological research, Hamburg, Germany. [WWW document] 2010
Osman H, Usta IM, Rubeiz N et al Cocoa butter lotion for prevention of striae gravidarum: a double‐blind, randomised and placebo‐controlled trial. BJOG 2008; 115: 1138–1142.
Taavoni S, Soltanipour F, Haghani H et al Effects of olive oil on striae gravidarum in the second trimester of pregnancy. Complement Ther Clin Pract 2011; 17: 167–169.
53. Timur S, Kafkasli A. The effect of bitter almond oil and massaging on striae gravidarum in primiparaous women. J Clin Nurs 2012; 21: 1570–1576.
Lokhande AJ, Mysore V. Striae Distensae Treatment Review and Update. Indian Dermatol Online J. 2019;10(4):380-395. doi:10.4103/idoj.IDOJ_336_18
Manuskiatti W, Boonthaweeyuwat E, Varothai S. Treatment of striae distensae with a tripolar radiofrequency device: A pilot study. J Dermatolog Treat 2009;20:359-64.
Kim IS, Park KY, Kim BJ, Kim MN, Kim CW, Kim SE. Efficacy of intradermal radiofrequency combined with autologous platelet-rich plasma in striae distensae: A pilot study. Int J Dermatol. 2012;51:1253–8
Casabona G, Marchese P. Calcium Hydroxylapatite Combined with Microneedling and Ascorbic Acid is Effective for Treating Stretch Marks. Plast Reconstr Surg Glob Open. 2017;5(9):e1474. Published 2017 Sep 26. doi:10.1097/GOX.0000000000001474