Dermal fillers come in many forms, but rarely is there one as versatile and effective as RADIESSE, a collagen stimulating filler which not only lifts skin and replaces lost volume, but also improves skin texture and elasticity. How it works in your skin depends on how it is prepared and injected. Sounds too good to be true?
What is RADIESSE Dermal Filler And How Does It Work?
Primarily, RADIESSE is a volumizing filler used to plump up moderate to severe facial wrinkles and to restore lost volume, such as the nasolabial folds and the cheeks. However, it is so much more than just a volumizing filler.
Unlike hyaluronic acid fillers such as Restylane and Juvederm, RADIESSE works by stimulating your body to produce collagen. It is made of Calcium Hydroxyapatite (CaHA) microspheres (25 µm to 45 µm) suspended in an aqueous gel carrier of sodium carboxymethylcellulose (CMC). When injected, it immediately adds volume to deficient areas and contour facial features. Over time, the CMC gel is fully absorbed and the body metabolizes the CaHA microspheres, leaving behind your own natural collagen.
It was first FDA approved in 2006 for treating folds and wrinkles in the face, with 6 million procedures being performed to date. In 2015, RADIESSE received FDA approval for treating volume loss in the back of the hands. To date, it is the only dermal filler approved for this purpose.
RADIESSE works via a 2-step process:
The CMC gel gives immediate lifting and sculpting results when injected. The gel only lasts for about 12 weeks before it is absorbed by our bodies.
At the same time, the CaHA microspheres begin to stimulate your skin to produce collagen. After injection, the CaHA microspheres form a "scaffold" that provides mechanical stimuli triggering fibroblasts to produce collagen. The collagen stimulation peaks at 12 weeks to give the final result, which lasts up to 18 months.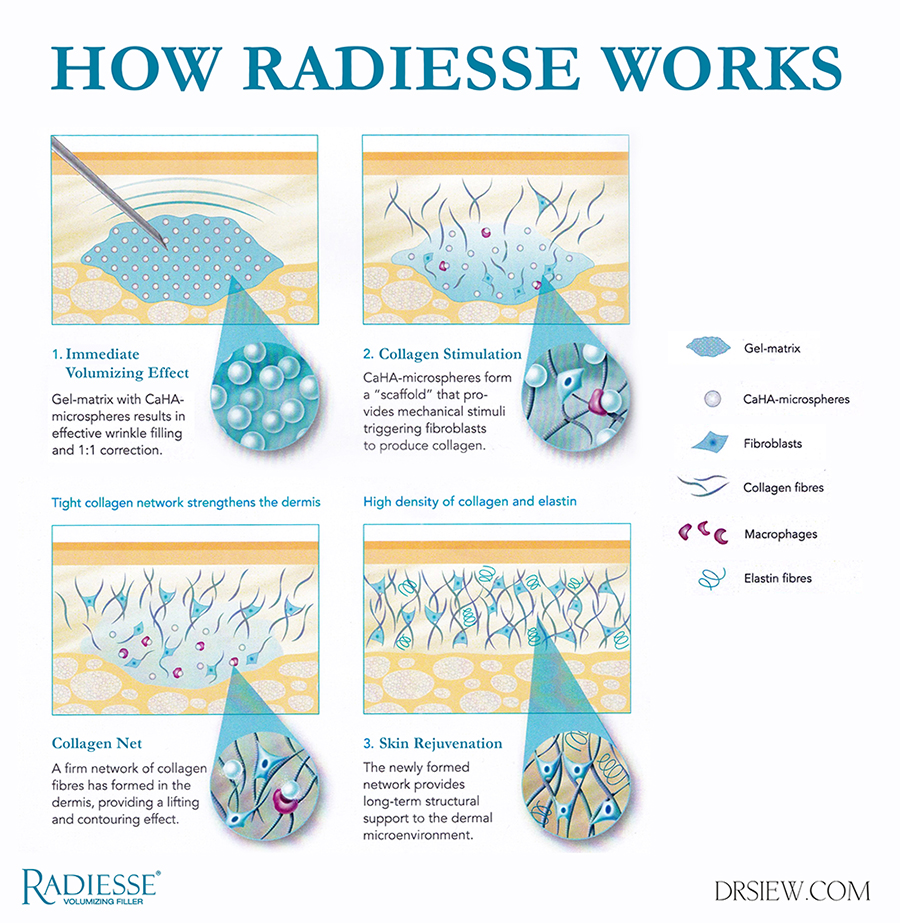 A Unique Volumizer and Skin Rejuvenator All at Once
As a filler, RADIESSE has excellent rheological properties, with high viscosity and elasticity. This means that it lifts very well, and also does not migrate or change in shape after bring injected. Because of its unique ability to induce collagen growth, RADIESSE not only fills up deficient areas, but also improves skin quality by encouraging our bodies to stimulate more collagen. This allows it to also act as an anti-aging skin rejuvenator at the same time.
Which Areas Can Be Treated?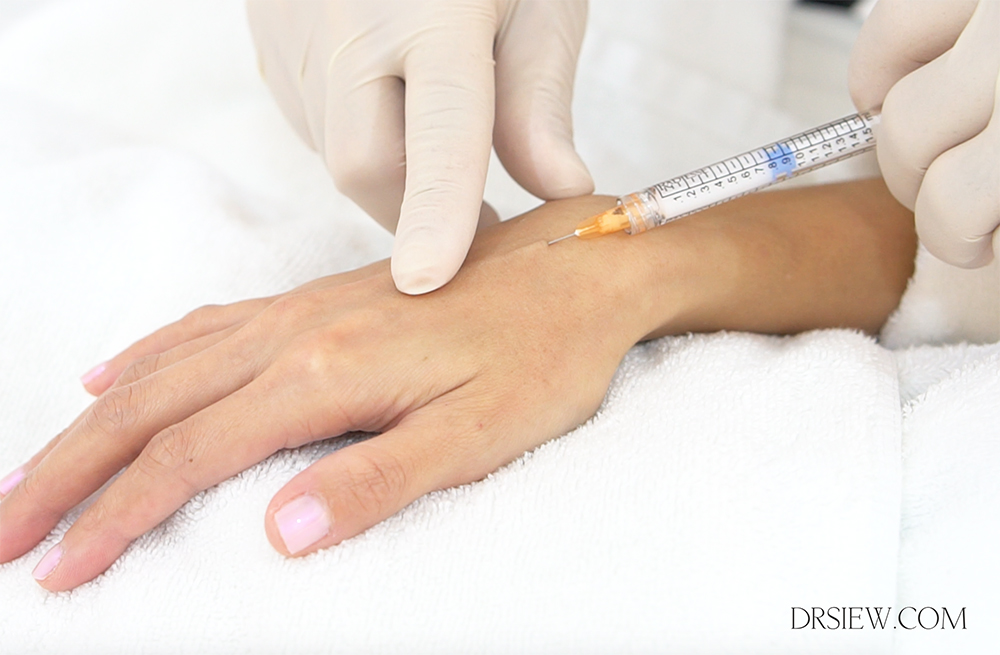 RADIESSE can be used to treat most areas of the face, except the superficial under eye area, eyelid area and lips. Areas that are most commonly treated include the cheeks, forehead, temples and jawline. It can also be used to sculpt facial features by augmenting the nose and chin. It is also excellent for treating the hands.
Personally, it is my filler of choice for the lateral cheeks and hands, with superior and predictable results.
What Results Can I Expect?
RADIESSE filler provides an immediate lift by restoring lost volume in the treated areas, such as the cheeks and temples. It corrects deep facial folds such as the nasolabial lines.
However, the results do not end there – they continue over the next 3 months! The skin becomes smoother and firmer when the CaHA particles stimulate collagen in your skin. Tightening occurs, to pull the skin upwards and improve facial contours. The technique is described as the RADIESSE 3D Vector Lift.
One unique property of RADIESSE is that it can be hyper-diluted and used primarily as a skin rejuvenator –when the procedure is performed this way, the skin rejuvenating effects are even more pronounced and visible.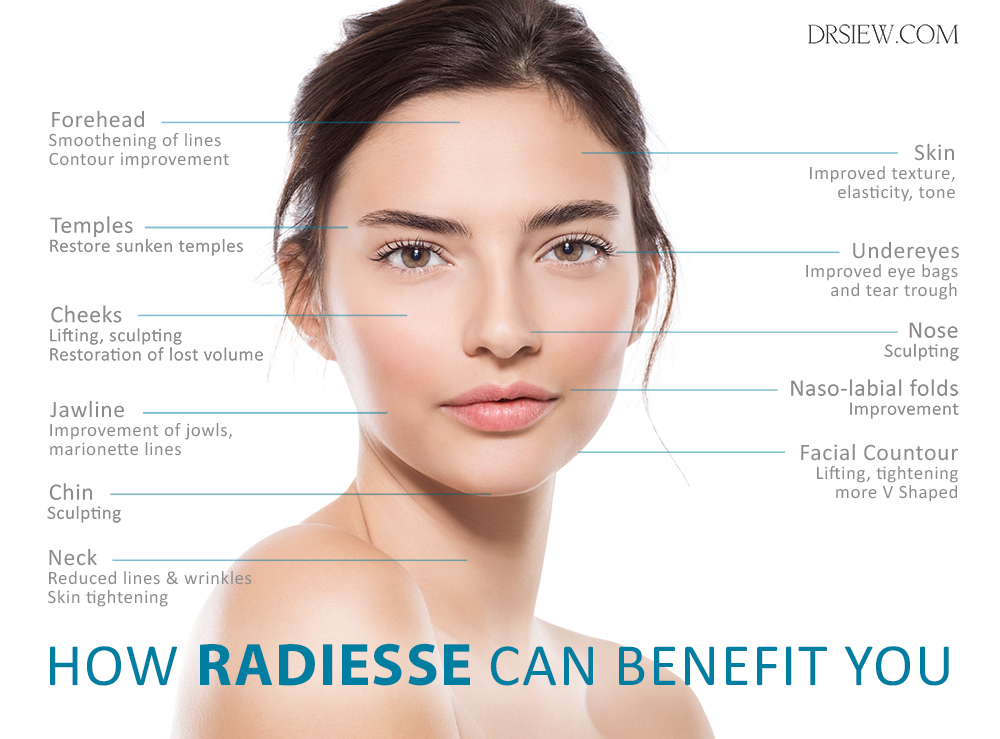 How Long Can it Last?
RADIESSE filler lasts at least 12 months, and up to 18 months.
Any Side Effects?
RADIESSE is one of the most studied dermal fillers available, with an excellent safety profile.
The most common adverse side effects seen are no different from any other dermal fillers. Bruising, redness, swelling, soreness, itching are some temporary side effects you may experience immediately after the treatment.
Like all dermal fillers, one of the risks is unintentional injection into a blood vessel. The chances of this happening are very small, but if it does happen, the complications can be serious, and may be permanent. These complications, include vision abnormalities, blindness, stroke, temporary scabs, or permanent scarring of the skin.
RADIESSE is not a hyaluronic acid filler, and hence, it cannot be dissolved with Hyauronidase if anthing goes wrong. For that reason, have a proper conversation with your doctor before undergoing the procedure, and only have the procedure performed with a doctor who is experienced and confident with it.
What is The Difference Between RADIESSE and RADIESSE (+)?
RADIESSE(+) is a newer product. It obtained FDA approval in 2015. It contains 3% lignocaine (an anaesthetic) in the product, which makes the procedure more comfortable. It is not yet approved in Singapore.
Having said that, most doctors routinely mix lignocaine into RADIESSE before injecting it into their patients. Hence, RADIESSE(+) offers more convenience for the doctor, rather than more comfort for the patient.
Conclusion: RADIESSE – The Most Versatile and Cost Effective Filler
RADIESSE may have been around for a long time, but that has not changed the fact that it is an excellent anti-aging treatment. Compared to hyaluronic acid fillers, it has the added benefit of significant skin texture improvement due to its collagen stimulating properties.
It has some similarities to Ellansé , another collagen stimulating filler. However, it is more versatile, allowing it to be hyper-diluted with predictable results.
One huge advantage of RADIESSE over other fillers is its cost – personally, I feel is the most cost effective filler for patients, as it not only lifts more than HA fillers with the same amount of product, but also rejuvenates the skin. No other filler does so much for the same price.