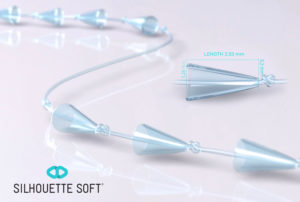 The Silhouette Soft thread lift was introduced to Singapore 5 years ago, even before the United States Food and Drug Administration (FDA) approved the treatment in 2015.
Silhouette Soft (The USA FDA approved product being "Silhouette Instalift" – made of 82% poly-L-lactic acid (PLLA) and 18% glycolide polymer (PLGA)) was revolutionary when it was introduced. It gave men and women an option to lift sagging skin, reposition and recontour the face in areas such as the cheeks, jowls and neck, without having to go under the knife. Prior to that, treatments for lifting and repositioning, with so little downtime, were very limited.
Dual Action of Silhouette Soft Treatment
Silhouette Soft features bidirectionally oriented cones along the length of each suture. Being bidirectional, the cones anchor skin tissue on the more superior (higher) side, and hook onto skin and fat on the more inferior (lower) side to lift and reposition sagging skin.
In addition, the sutures also induce collagen stimulation over the next few months through a low-grade inflammatory response. Hence, the treatment provides 2 effects:
Immediate lifting and repositioning of sagging skin and fat
Improved skin texture and volume through collagen production over the next few months.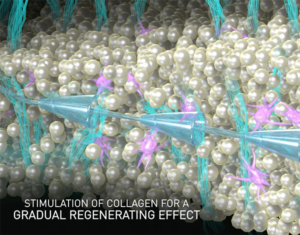 Overpromises of Lifting
Because it was such an exciting new treatment, both doctors and patients had very high expectations and hopes. Doctors promised a "lunchtime lift" and claimed that Silhouette Soft could lift sagging skin "anywhere on the face and body" including the eyebrows and even nose.
True enough, the immediate lifting results proved to be very good, but the instant lift would diminish over 1-2 weeks, to give a more subtle, final result. This often led to disappointment – patients were not given the correct expectations on what results to expect, and doctors oversold the effects of the treatment.
This was made worse by unethical doctors who often put up untrue, exaggerated results on social media, giving the public unrealistic expectations of what Silhouette Soft thread lift can and cannot do.
Latest Scientific Data on Silhouette Soft Thread Lift
A recently released study, which features 12 months of data from a prospective, masked controlled clinical study, sheds some light on some of the beneficial effects of Silhouette Soft thread lift.
In the study, 20 men and women, aged 41 to 75 years old, underwent the Silhouette Instalift procedure, and their results compared after 3 months and 12 months. The amount of facial lift and patient satisfaction was analysed. Side effects were also recorded. 3-4 threads were used on each side for the midface.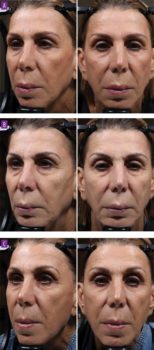 The study showed that:
1 week after the procedure,
100% of patients had lifting of 0.5mm or greater.
80% of patients had lifting of 1mm or greater.
45% of patients had lifting of 1.5mm or greater.
3 months after the procedure,
80% of patients had lifting of 0.5mm or greater.
35% of patients had lifting of 1mm or greater.
25% of patients had lifting of 1.5mm or greater.

1 year after the procedure,
60% of patients had lifting of 0.5mm or greater.
50% of patients had lifting of 1mm or greater.
20% of patients had lifting of 1.5mm or greater.
Additionally, all investigators rated that all patients had some improvement on the Global Aesthetic Improvement Scale (GAIS). Patients also noted an improvement in skin quality.
Most side effects were mild and of a short duration. 4 patients reported more "severe" side effects, which resolved eventually by themselves. The longest duration of side effects was tenderness in the treated area which lasted 10 weeks, in 1 patient.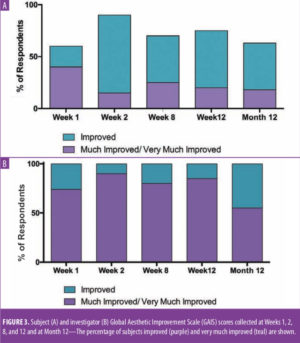 Repositioning and Recontouring Rather than Lifting
More and more, experts agree that Silhouette Soft, and other threadlifts, reposition skin and fat rather than lift it. Repositioning refers to shifting the fat on face from one position to another – the skin is not lifted per se, but looks better because it is in a more aesthetically pleasing position. The skin contour and skin quality is improved from the treatment.
With fillers, we can volumise sunken areas in the face. With Botulinum toxin such as Xeomin, we relax hyperactive muscles. And with Silhouette Soft thread lift, we can successfully reposition fat, giving us a complete, holistic approach to anti-age the face in a natural way.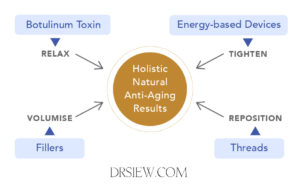 At Least 3 Threads Required per Side, Often More
In the study, patients received 3-4 Silhouette Soft threads per side for visible lifting results. However, the author notes that this may not even be enough. Often 3-4 threads are needed in the midface (cheeks), 1-2 in the jawline and jowls, and 2 in the upper neck. Hence the total number of threads required is up to 8 per side.
In my practice, my experience is similar to the authors. Patients receiving 1-2 threads often have disappointing results. At least 3 are required, and often, I use 4-5 threads per side to give the reposition results which are desired. Silhouette Soft works best in the cheeks and jowls, and well in the upper neck. In my experience, it does not work well for lifting the eyebrows and upper face.
Silhouette Soft Delays a Face Lift, But Does not Replace One
While Silhouette Soft threadlift is a valuable addition to non-invasive treatments, there are limits to what it can do. If you are experience mild to moderate skin sagging, but do no yet wish to undergo surgery, Silhouette Soft is an option. However, it is important for you to speak extensively with your doctor, to learn the pros and cons of the treatment, before deciding on it.
Of note, you must realize that the non-invasive threadlift will never give the same dramatic results as a surgical facelift. The Silhouette Soft threadlift also needs to be repeated yearly to maintain its results – in this aspect, its results are even shorter lasting than fillers such as Ellanse and Radiesse.
The big plus point, is of course that Silhouette Soft threadlift comes with minimal downtime. Performed by an experienced doctor, you can practically leave the clinic and go back to work.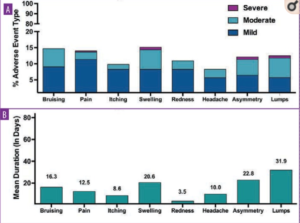 Realistic Expectations, Satisfied Patients
In my practice, the procedure remains popular amongst my patients. I make sure that they understand the results they can expect. I show them realistic before-after photos. More often than not, they are surprised – the photos they were shown by another doctor, or the ones they see on Instagram, are far more dramatic.
I have to take time explain to my patients that those they have been shown are not accurate – often they are taken right after, hence showing a lift which will only last a week or 2.
I also take time to explain to my patients that there are other alternatives to the threadlift which may work better for them – Ulthera for lifting, fillers for volumising, and biostimulation with Sculptra or Radiesse to tighten skin, for example.
Once they have a better idea of the treatment choices, they can make an informed decision on which treatment is more suitable for their needs, budget and lifestyle. For this reason, my patients who undergo the Silhouette Soft thread lift are mostly satisfied, happy, and continue to return yearly for their maintenance treatments.
Reference :
Facial Lift and Patient Satisfaction Following Treatment with Absorbable Suspension Sutures: 12-Month Data from a Prospective, Masked, Controlled Clinical Study. J Clin Aesthet Dermatol. 2019 Mar; 12(3): 18–26. Mark S. Nestor, MD, PhD