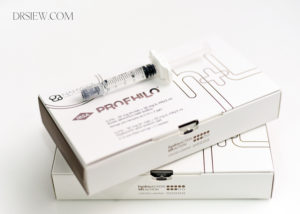 Profhilo is the one of the most talked about injectable treatments in Europe right now. Named the "anti-wrinkle treatment of 2019", Profhilo is a new treatment for rejuvenating skin hydration, elasticity and quality. Like Restylane skinboosters and many other dermal fillers, the main ingredient is Hyaluronic Acid (HA). However, Profhilo has many interesting differences compared to other HA fillers such as Restylane and Juvederm.
Profhilo – NOT a Skinbooster nor a Filler
Hyaluronic acid is a polysaccharide naturally present in the human body. Its primary function is to maintain tissue hydration. Hyaluronic acid's moisture-binding characteristic is crucial in allowing the skin hold onto water and retain moisture. The amount of hyaluronic acid in our skin declines as we age, which explains why older people generally have thinner, more crepey skin.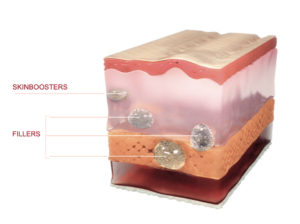 Skinboosters uses the principle of replacing lost hyaluronic acid in our skin to restore hydration and elasticity. The treatment involves tiny injections of a low viscosity HA filler, such as Restylane Vital or Vital Light, into the mid layers of the skin.
Fillers, on the other hand, are designed to replace lost volume or fill up folds. They are generally injected deeper into the skin. Dermal fillers such as Restylane, Juvederm and Belotero are also made up of hyaluronic acid. To ensure they are firmer, and last longer, the HA molecules are modified by adding cross linking agents – the most common being 1,4-Butanediol diglycidyl ether (BDDE).
Profhilo, although also made up hyaluronic acid, is a very different treatment from either skinboosters or dermal fillers. It is used to improve the skin, rather than add volume. However, the treatment process, effects, and technology differ greatly from traditional skinbooster treatments. At the heart of the treatment is a unique hyaluronic acid molecule called the Hybrid Coorperative Complex (HCC).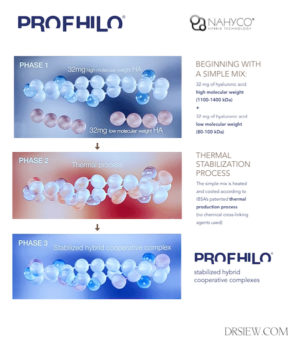 Profhilo – Hybrid Coorperative Complexes With Unique Actions
Profhilo contains the highest concentration of hyaluronic acid available today – 32mg/ml. (in comparison, both Juvederm Voluma and Restylane is comprised of 20mg/ml HA). The HA in Profilo is non both high molecular weight (H-HA) and low molecular weight (L-HA), and non cross-linked. Through a proprietary process (NAHYCO® Hybrid Technology), the L-HA and H-HA chains in Profhilo interact with each other to form a Hybrid Coorperative Complex (HCC) with unique rheological properties.
A very different type of hyaluronic acid molecule is created, which unique physical properties:
HIGH HA CONCENTRATION – Profhilo contains 32mg./ml of L-HA and 32mg/ml of H-HA, totaling 64mg in 2ml


EXTENSIVE SPREADABILITY – It has a Tan Delta (ratio bet viscous and elastic modulus) of 1.36, which enables it to spread all over the face once injected


LOW VISCOSITY – Profhilo has a low G' value of 39, hence it cannot be used to lift like other fillers.


NO BDDE or other cross-linking agents


LOW INFLAMMATORY RESPONSE – Due to its high cohesivity, and excellent integration into our skin after being injected


GEL DURATION LONGER THAN OTHER NON CROSS-LINKED HA FILLERS – Profhilo, surprisingly, survives in the skin for 30-45 days, the same duration as other low cross-linked hyaluronic acid fillers, before being degraded naturally by hyaluronidase in the skin. In contrast, other non cross-linked HA fillers last only a day.
More Than a Skinbooster – What Biochemical Effects Does Profhilo Have?
As a hyaluronic acid treatment, Profhilo hydrates the skin when injected, just like other skinboosting treatments. However the Hybrid Coorperative Complexes (HCC) go a step further. What is very exciting is that Profhilo also stimulates collagen and elastin in the skin, which explains its tightening and rejuvenative effects.
Profhilo have been shown to:
SUPPORT KERATINOCYTE VIABILITY AND PROMOTE WOUND HEALING[1] in vitro.


STIMULATE SKIN CELLS (KERATINOCYTES AND FIBROBLASTS) TO PRODUCE COLLAGEN AND ELASTIN[2] As a hybrid complex, Profhilo stimulates collagen and elastin up to 12 times more than L-HA or H-HA alone.


RECRUIT STEM SELLS IN ADIPOCYTES AND IMPROVE FAT TISSUE RENEWAL[3].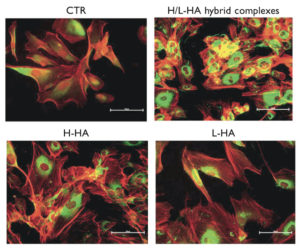 Because the H-HA and L-HA is released slowed into the skin, they do not trigger an inflammatory response, making it very biocompatible and low in inflammation. This is in contrast to other biostimulators in the market such as Ellanse and Sculptra, which work by inducing a low grade inflammatory response in the body to stimulate new collagen.
In short, Profhilo works in the epidermis, dermis and superficial fat compartments to restore aged tissue, without volumisation. The process is active, rather than passive like in other skinbooster treatments – it is a regenerative anti-aging treatment which reverses the aging process through bioremodelling of the skin.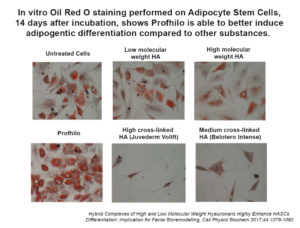 What are the Effects of Profilo Treatment?
Once injected, Profhilo quickly gives improvements in skin hydration and fine lines as hyaluronic acid is replaced in the skin. Later on, skin tightening and improvements in elasticity are also seen[4]. Patients often bouncier and more youthful looking skin. The full effects of Profhilo take up to 12 weeks after the first treatment, as the bioremodelling process takes time to complete.
In the study by Dr Sparavigna and Tenconi, there are statistically significant objective and subjective improvements in skin hydration, wrinkles, skin roughness, 8 weeks after the first treatment[4].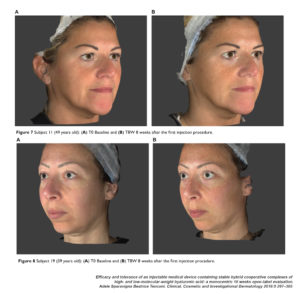 Remember, Profhilo is treatment for improving the skin. There are definite, visible results, backed by science, but it is NOT MAGIC. It will not be able to lift very saggy skin, or replace a surgical facelift. If you have severe skin texture problems, you will require more sessions to see results.
What Areas Can Profhilo Treat?
Profhilo can be used to treat both the face and the body. However, it is particularly indicated for treatment of the cheeks, jowls and neck, where injection protocols have been studied and shown to be very successful.
Profhilo has been used by doctors to treatment practically anywhere on the body, including the:
Forehead and Eye area
Cheeks, Lower face, Chin
Neck and Décolletage
Arms, Hands
Knees
Chest and Abdomen
Depressed acne scars
Safe and (Almost) Painless Treatment Process With BAP Technique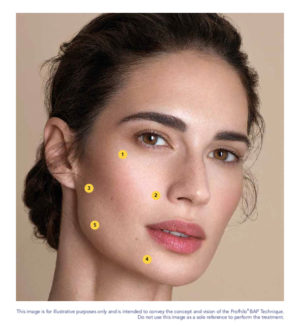 What really got me (and my patients) excited when I first learned about Profhilo, was the promise that unlike skinboosters, which requires multiple injection points, Profhilo only needs to be administered in 5 points for each side of the face and neck!
The Bio Aesthetic Points, or BAP Technique chooses 5 anatomically receptive areas of the face with an absence of large vessels and nerve branches, therefore minimizing risks while maximizing diffusion of the product in the malar and submalar areas. Using only 5 points to administer Profhilo is possible as the formation of hybrid cooperative complexes significantly reduces viscosity, while at the same time maintaining manageability and diffusibility in the tissue.[5]
Treatment of the neck involves a total of 10 injection points. Standardized protocols for other areas, such as the forehead and the arms, are still being formulated.
The BAP technique has been shown in several clinic studies[6] to be efficacious, thus eliminating the need for the traditional injection techniques of skinboosters and other mesotherapy treatments of the skin, which can result in more patient discomfort, and downtime. Side effects are very mild (e.g swelling and occasional bruising) and temporary. The raised bumps from the injection points quickly fade away over a few hours as the product quickly diffuses all over the skin.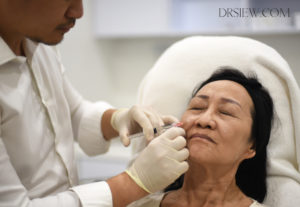 How Long Does It Last? What Is the Treatment Regime Like?
An initial cycle of 2 treatment sessions, 1 month apart for Profhilo. In people with severe skin laxity, a third session may be needed to obtain more optimal results.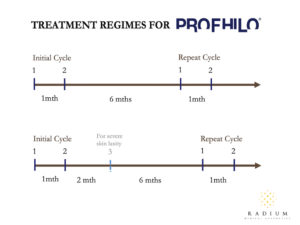 After the initial treatments, the company recommends that the treatment regime is repeated after 6months. However, experts have differing opinions on how long the treatment actually lasts – and more studies are needed to determine that. The longevity of the treatment will depend on several factors, such as the patient's skin, genetics, lifestyle and environmental factors. Some doctors report that the skin quality improvements from Profhilo continue to show even after a year in some of their patients!
Who is Suitable for Profhilo?
Profhilo is suitable for anyone with mild to moderate skin aging who wishes to improve their skin texture, hydration and tighten skin. It works best when the signs of aging are just beginning to show – in a patient with some mild skin laxity and mild fine lines.
Profhilo is very suitable in men as it works well on thicker male skin, and it does not feminine masculine features (unlike fillers and Botox when done poorly).
Can Profhilo Be Combined with Other Treatments?
The short answer is yes! Profhilo can be safely combined with energy-based devices such as Ulthera and Picosure laser for synergistic effects. In fact, it works best, when combined with fillers – the fillers will replace lost volume, while Profhilo finishes the job but restoring youthfulness to the skin.
Profhilo is finally in Singapore after a long wait, and I cannot wait to see the results on my patients!
---
References:
In vitro analysis of the effects on wound healing of high- and low-molecular weight chains of hyaluronan and their hybrid H-HA/L-HA complexes D'Agostino et al. BMC Cell Biology (2015) 16:19 DOI 10.1186/s12860-015-0064-6
Stellavato A, Corsuto L, D'Agostino A, La Gatta A, Diana P, Bernini P, et al. Hyaluronan Hybrid Cooperative Complexes as a Novel Frontier for Cellular Bioprocesses Re-Activation. PLoS One 2016;11:e0163510.
Hybrid Complexes of High and Low Molecular Weight Hyaluronans Highly Enhance HASCs Differentiation: Implication for Facial Bioremodelling A. Stellavato and M. La Noce et al. Cell Physiol Biochem 2017;44:1078-1092
Efficacy and tolerance of an injectable medical device containing stable hybrid cooperative complexes of high- and low-molecular-weight hyaluronic acid: a monocentric 16 weeks open-label evaluation Adele Sparavigna Beatrice Tenconi. Clinical, Cosmetic and Investigational Dermatology 2016:9 297–305
Hyaluronic acid hybrid cooperative complexes and the BAP (Bio Aesthetic Points) technique: the new edge in biorejuvenation. Annalisa Beatini, Chiara Schiraldi, Adele Sparavigna. Aesthetic Medicine.Volume 21 • Number 21 • Apr- Jun 2016
Efficacy, Safety, and Tolerance of a New Injection Technique for High- and Low-Molecular-Weight Hyaluronic Acid Hybrid Complexes Carmen Laurino, MSc, Beniamino Palmieri, MD, and Alessandro Coacci, MD
Hybrid cooperative complexes of high and low molecular weight hyaluronans (Profhilo®): review of the literature and presentation of theVisionHA project. Enis AGOLLI. Esperienze Dermatologiche 2018 March;20(1):5-14 DOI: 10.23736/S1128-9155.18.00470-3